Office of Public Health Nursing
Page Navigation

Close
Office of Public Health Nursing
Office of Public Health Nursing
Office Hours: 8 a.m. to 4:30 p.m.
Phone 973-579-0570
Fax 973-579-0571
health@sussex.nj.us
Our mission is to protect and promote good health for all Sussex County citizens through direct and responsive community endeavors.
---
Health Education Topics
*** Flu shots and flu information ***
Zika Virus (El virus del Zika)

Child Health Conference (Well Baby Clinic) Well-child care for children from 0 to 5 years old (school entry). Information and Schedule
Childhood Lead Poisoning Prevention Program Blood lead screening and assessment of lifestyle and environment for sources of lead.
Communicable Disease Control Investigation and reporting of communicable diseases. Surveillance for disease trends. New Jersey Reporting Requirements for Communicable Diseases
Community Outreach Programs that partner with local businesses and agencies to target residents of all ages across the lifespan. Provide health education in a community setting.
Complete Metabolic Profile (CMP) A blood screening tool used to evaluate organ function and assess general health.
Emergency Preparedness The Public Health Emergency Preparedness Program is dedicated to ensuring a coordinated, timely, and effective response to a bioterrorist event, natural disaster, or other public health emergency in Sussex County.
Flu and Pneumococcal Vaccination Flu vaccine and pneumococcal vaccine clinics at various sites within the County.
Health-Check Adolescent & Adult Health Clinic services available for immunizations, blood pressure monitoring and nurse consultations on health related topics.
Information and Schedule
Health Education Programs Provided upon request to individual organizations, both private and public.
Hepatitis B Vaccination Clinic (1st Responders) Hepatitis B vaccines administered to emergency responders, firemen, policemen and other people whose occupations place them at risk for contracting Hepatitis B disease.
HIV/AIDS HIV/AIDS information and referral for testing, AIDS Task Force. HIV Test Sites (pdf)
Hypertension Case Finding Early detection of high blood pressure - targeted at the young adult population.
Men's Health Screening Health education and instruction of self- examination to detect cancer in early stages. Includes PSA blood test.
School Immunization Audit Yearly audit of preschool, elementary, middle, and high school student immunization records to ensure compliance with New Jersey law immunization requirements.
Skin Cancer Screening Health education and instruction of self-examination skills to detect skin cancer in early stages.
Special Child Health Services ensures that all children with special health needs have access to comprehensive, community-based, culturally competent, and family-centered care through case management services.
Sussex-Warren Chronic Disease Coalition The Sussex-Warren Chronic Disease Coalition utilizes community members and resource agencies to increase awareness, encourage prevention, and promote early detection of cancer and other chronic diseases.
Tuberculosis Control Services Oversees surveillance, management and containment of tuberculosis, direct observation of medication therapy and client education.
Women's Health Screening Health education and instruction of self- examination skills to detect cancer in early stages. Includes PAP test. 2021 Schedule 2022 Schedule
Office of Public Health Nursing Team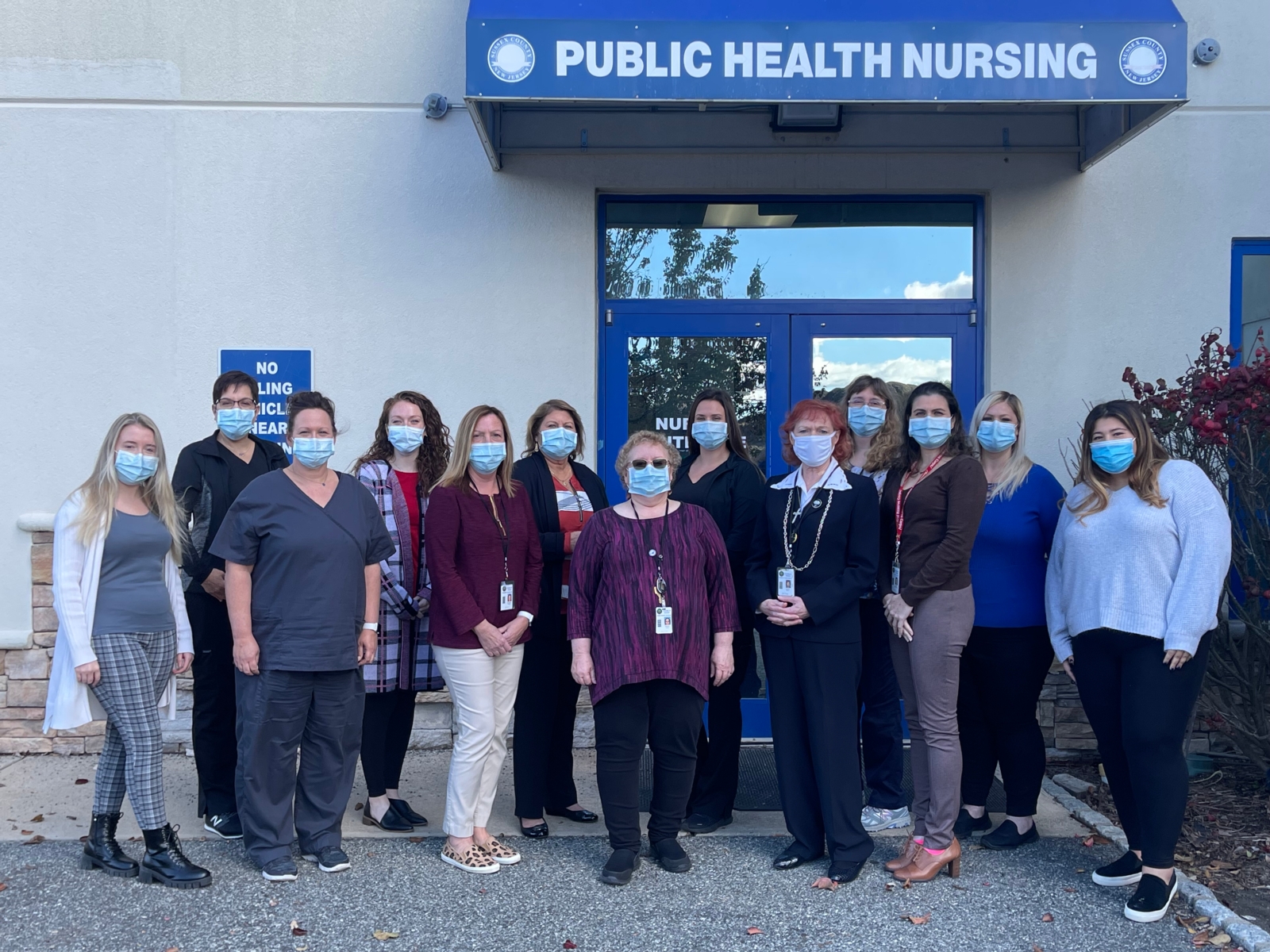 ---
Office of Public Health Nursing,
Office Hours:
8 a.m. to 4:30 p.m.,
Phone
973-579-0570,
Fax
973-579-0571,
health@sussex.nj.us