Poll Workers
Page Navigation

Poll Workers and Support Staff Wanted!
Submit Online Poll Worker Application
---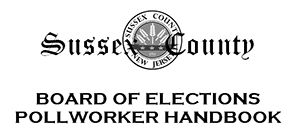 Thank you for being a Sussex County election worker!
The Poll Worker Handbook describes procedures to be followed on Election Day at your assigned polling place. The handbook is provided to the Poll Workers on Election Day as part of their supplies. For convenience, you may also refer to an electronic copy below.
All of the documents below require a PDF reader.
Download Adobe Reader here
---
Poll Worker Training Videos
These YouTube videos are used to supplement the classroom training offered to all Sussex County Poll Workers.