County Government Information
WHAT IS A FREEHOLDER?
A Freeholder is the elected county government representative in New Jersey who serves on the county's main governing body, the Board of Chosen Freeholders.
The Sussex County Board of Chosen Freeholders sets policy for five County departments and 13 divisions, plus a number of boards, commissions, authorities and committees. The Freeholders appoint a County Administrator to supervise the actual day-to-day operation of county government.
COUNTY GOVERNMENT IN NEW JERSEY
The word "freeholder" traces its origin to medieval England. It was introduced here by the British colonists who brought with them the concept of the county as the local unit of government. When the British settled in the "new world," they also brought with them the idea that only those who owned land free of any debt could vote and hold public office. Those who could vote were known as "free-holders" and those who were elected to office were the "chosen free-holders."
The basic law establishing the Freeholder form of county government in New Jersey was enacted in 1798. In the beginning, each corporate municipality was represented by a Freeholder on the county governing board. But as the number of municipalities increased to the point where some Boards were bogged down by sheer weight of numbers, the law was changed. In 1912 the "Small Board" Act was adopted, permitting counties to elect Freeholders from the county at large. The exact number of Freeholders making up each county Board was to be determined by the respective county's population. The law was permissive, and subject to approval by the voters at a referendum. A county may have between three and nine Freeholders, depending on its population and classification.
The Freeholders are elected at-large to serve three-year staggered terms. The five Freeholders elect a Director from among themselves to run their meetings and to serve as spokesperson for the Board.
New Jersey is the only state whose elected county representatives are called Freeholders.
SUSSEX COUNTY FLAG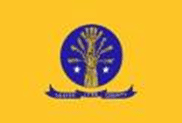 The flag, with its background of vibrant yellow, represents the sun or a harvest moon as it spreads its light over the mountains, hills and valleys.
The gentle blue is the reflection of the tonality of the sky upon our beautiful crystal lakes while the stars remind us of our high ideals.
The gently waving wheat gives living evidence of the fertility of thought, words and deeds. This is Sussex County.
SUSSEX COUNTY SEAL

The Sussex County Seal is a gold seal with a solid green circle encased within a dark blue circle. Within the green circle are five gold sheaves of wheat held in place by a burgundy ribbon decorated with three gold stars.
The date 1753 appears below the ribbon to remind us of our forefathers' perseverance to establish Sussex County as an independent entity to govern, protect, and enhance the lives of its residents.