Skylands Ride Receives Bonus from Logisticare
Release Date: June 06, 2018
Skylands Ride Receives Bonus from Logisticare
Sussex County Skylands Ride was recently presented with an incentive check by LogistiCare Solutions for excellent service in transporting Sussex County residents to their medical appointments. The check reflected performance during the 1st Quarter of 2018.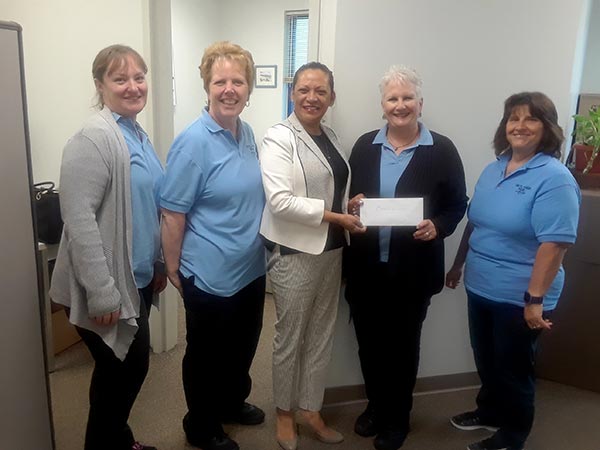 (L-R) Skylands Ride driver Charlene Figueroa, Carrie Heiney; Logisticare representative Zayda Stenger; Marie Zangara Operations Coordinator Skylands Ride and Debra Scott, Scheduler Skylands Ride
Accepting the check from LogistiCare Regional Manager Zayda Stenger are Driver Charlene Figueroa, Morning Supervisor Carrie Heiney, Acting Program Coordinator Marie Zangara, and Scheduler Debbie Scott.
Skylands Ride has been serving the citizens of Sussex County for over 35 years. The service provides public Connect bus routes, as well as On-Demand pre-scheduled trips throughout the county. For more information about Skylands Ride, check the County website, www.sussex.nj.us/transit, or call (973) 579-0480.