Older Americans Month "Make Your Mark"
Release Date: April 15, 2020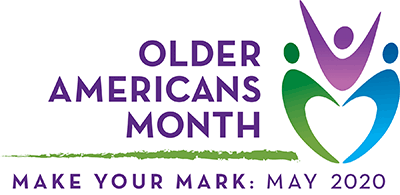 (Newton, NJ) The Sussex County Department of Health and Human Services, Division of Senior Services hosts an event each May to honor older Americans during Older Americans Month. This year's celebration, originally scheduled to take place at Selective Insurance in Branchville on May 1, has been cancelled to preserve and protect the health and well-being of our most valuable population during the current public health crisis.
Each year, more and more older adults are making a positive impact in and around Sussex County. As volunteers, employees, employers, educators, mentors, advocates and more, they offer insight and experience that benefits the entire community. That's why Older Americans Month (OAM) has been recognizing the contributions of this growing population for 57 years.
The 2020 OAM theme, "Make Your Mark," celebrates and highlights the unique and lasting contributions older adults make to their communities—everything from sharing a story with grandchildren to leaving a legacy of community action. Their time, experience, and talents benefit family, peers, and neighbors every day.
While it is not possible to physically celebrate these contributions at this time and many residents must stay at home, there are still several ways to stay engaged and "Make Your Mark" in your community and with loved ones.
Maintain a Daily Routine. Stick to your usual schedule to the extent possible. Do not sleep in and get dressed every day.
Share your story. Call family and/or friends routinely to stay in touch; write a journal of your life and experiences; take an online class and learn how to express yourself with the arts; or assemble a photo album of important moments in your life.
Engage in a Hobby. Read, complete a puzzle, play board games, or do crafts.
Exercise. Take a walk in an open space if it is safe to do so - remember to follow safety precautions and practice social (physical) distancing by staying six feet away from others Do the 5 . Look on the television for free exercise programs.
Catch up on Your To Do List. Use this time to cross off the chores you may have been putting off like fixing things; organizing your closet, pantry and basement; or getting outside to weed or prune plants. This will give you a sense of accomplishment and a mood boost when the tasks are complete.
Volunteer Your Time. Look for ways to volunteer safely. Connect with your local Area Agency on Aging to see if there is a way to make friendly phone calls to people who cannot get out right now.
Explore. Many of the state's arts and cultural institutions are offering virtual tours and performances. You can explore more than 400 works on the Grounds for Sculpture website, attend online events hosted by the Princeton University Art Museum , all from home.
Educate. Watch educational videos from the Battleship New Jersey and Liberty Science Center .
For additional information, please contact the Sussex County Department of Health and Human Services, Division of Senior Services at 973-579-0555, ext.1221 or seniorservices@sussex.nj.us.