Please select a year.
Sussex County Skylands Ride Gets New Bus
Release Date: August 23, 2010
Sussex County Skylands Ride replaces retired vehicle with new one.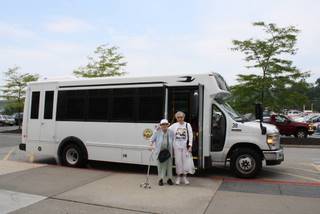 Sussex County Skylands Ride received a new bus from NJ TRANSIT, replacing an older vehicle that has been retired. The new bus seats 16, which went on the road in July, has a larger seating capacity than the retired vehicle. It will average over 40 one way passenger trips a day, and allow Skylands Ride to provide more rides during peak hours and reduce the waiting list for demand response rides. In addition, the new vehicle has several winter safety features such as heated mirrors that were not available on the retired bus.
Pictured above, Doris Kinney and Rose Marie Nethaway ride the new bus on their weekly grocery shopping trip.