Please select a year.
A Tribute: Reverend Ernest "Ernie" M. Kosa
Release Date: August 02, 2018
For many, many years Ernie was the official "information officer and keeper" of the County Display Building at the Sussex County Farm and Horse Show.
Note: In 2008 Sussex County employee Cheryl Raperto, now retired, wrote a tribute to her friend Ernie Kosa. It is presented here in remembrance of Reverend Kosa who passed away on July 31, 2018. On August 1, 2015, the County Administration Building at the fairgrounds was renamed the Ernest M. (Ernie) Kosa County Building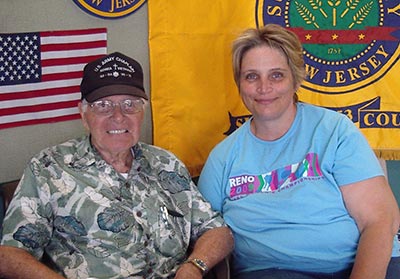 ---
A Tribute: Reverend Ernest "Ernie" M. Kosa

Say hello to Ernie at the Sussex County Building at the New Jersey State Fair
A Tribute: Reverend Ernest "Ernie" M. Kosa - A Living Legacy at the Sussex County Display Building at the Sussex County Farm and Horse Show
My friend, Reverend Ernest M. Kosa or "Ernie" as he is known and loved has been a fixture at the County Display Building at the Sussex County Farm and Horse Show for around 35 years. Ernie has become the official "information officer and keeper" of the Display Building through his generous offer of assuming these roles for many, many years. We have come to rely on Ernie to be there, and many actually wonder where he is when he is not at his desk at various times during the day.
Giving of himself for this 10-day period each year is only a small part of a life that has been filled with giving of himself - giving of himself for the betterment of others in his 80 plus years on this earth is what Ernie is all about. I have known and worked with Ernie for more than 31 years. He is a very special man - he has touched my life many times over those years. I have had the pleasure to work alongside him with the County's portion of the Farm & Horse Show displays - in fact, this year will be the 32nd consecutive year that we have worked together in conjunction with this project. He often jokes and is very honest to tell people that when I retire from the County, he will finally "retire" also, since we have been a team for so long.
Ernie entered the Chaplaincy of the United States Army in October 1952, and was sent to Korea in April 1953 to become Chaplain of the Second Battalion, 279th Infantry. During his 20 years as a Military Chaplain, Ernie was stationed in New Rochelle, NY; Ft. Bliss, TX; Korea; Ft. Benning, GA; Fort Eustis, VA; Syracuse, Ft. Hamilton, NY; Bamberg and Heidelberg, Germany; Qui Nhon and Binh Thuy, Vietnam; and Fort Dix, NJ.
In November 1971, Lt. Colonel Ernest M. Kosa received the "Bronze Star" by Direction of President Richard M. Nixon for "distinguishing himself by meritorious service in connection with military operations against a hostile force in the Republic of Vietnam, during the period September 15, 1970 to August 21, 1971, as Chaplain at the 3d Surgical Hospital. During this period, LTC Kosa held 115 worship services, made nearly 2,000 ward visits and over 18,000 patient visits. He made every effort to relieve hospital boredom for patients. Regardless of the time of day or night, Chaplain Kosa could be counted on to be present when casualties were brought into the emergency room. Because he was always on the scene, he was able to keep the Hospital Commander posted on the morale and welfare of all hospital personnel. LTC Kosa's outstanding achievements were in keeping with the highest traditions of the Military Service and reflect great credit upon himself, the 3d Surgical Hospital, and the United States Army."
When Ernie retired from the U.S. Army on January 1, 1973, he relocated with his wife Barbara and three children Mark, Brian and Karen, to Sparta to be close to his parents, Rev. Dr. Andrew and Margaret Kosa. His father was the pastor of the Magyar Reformed Church in New Brunswick, NJ for 38 years before retiring to Lake Hopatcong where they lived until their death.
After Ernie's move to Sparta, he had hoped he would be able to find a vacant Presbyterian Church so that he could minister to a congregation again. There were, unfortunately, none vacant at the time. He did help out at different Congregations on Sundays, preaching. He was also invited to Picatinny Arsenal to hold services at the base. This he did for about 4 years. In the meantime, Dr. Aaronson, the Presbyterian Minister in Sparta, and with whom he worked very closely, mentioned to him that there was a job opening in Sussex County and suggested Ernie apply for that job. He did apply and became the Sussex County Mental Health, Alcohol and Drug Administrator and continued to serve in that capacity for about 20 years. During that time, he also became, twice, Interim Pastor of Churches that were vacant.
While Sussex County Mental Health, Alcohol and Drug Administrator, he became involved with many of the County agencies. During his tenure, Sussex County began discussions with Newton Memorial Hospital to see if it would be feasible to transfer the Mental Health, Alcohol and Drug agencies from County jurisdiction to Newton Hospital with the stipulation that existing County funding (at the time) would be transferred to the Hospital. The Hospital accepted these arrangements. Ernie remained with the County in charge of Mental Health and Drugs, including Alcohol. His remaining with the County government was approved by the State.
Ok, so you wonder how Ernie got involved with the County Display Building at the Farm & Horse Show…it goes like this. Each County agency set up a display at the building (or tent, as it was for many years) and each agency actually "manned" their display. He was involved with Mental Health, Alcohol and Drugs, also he was in charge of the Mental Health Board and Alcohol Board, affording him the opportunity to personally "man" his booth. Back then, as long as the "Fair" was in session, all the booths were "manned". Ernie would remain at the fairgrounds from the beginning of each day until the end of each day. Martin Struble, who was the original Superintendent of Buildings & Grounds for the County of Sussex and the Farm & Horse Show, as well and my first supervisor with the County, would have to lock up the building at the end of each night. Knowing all Martin's responsibilities, Ernie offered to lock up the building at the end of each night for Martin so that he wouldn't have to come back to accomplish the task since Ernie was going to be there anyway and since he was going to lock up, he told Martin he may as well open it up for him in the morning also. On August 5, 1986, Ernie saw that Martin appeared extremely tired and told him to go home and rest. Not realizing that he had said his final goodnight to Martin, Ernie received a phone call around 5 o'clock the next morning from then County Administrator Don Welcome advising him that Martin had passed away in the night. He had all Martin's keys and the tickets for all the County building displays and saw the week through in that capacity. Ernie has taken that lead role ever since. Even though the building has undergone two major re-designs in the past 22 years and many displays are no longer "manned," Ernie remains.
In addition to all this, Ernie has been credited with organizing the Council of Service Agencies, was in charge of Emergency Management, was and still remains on the Hospice Committee, Veterans Committees, 9/11 Committee, RSVP (Retired Senior Volunteer Program), Newton Memorial Hospital Foundation, and the Sussex County Farm & Horse Show Display Building. Even though Ernie retired from the County in 1991, he is still on all these different committees as a volunteer. Ernie is proud to say that he would gladly say a prayer for any agency that invites him to do so.
I know I could never express the gratitude to Ernie that he deserves for what all he has done for the County with regards to his volunteerism, and I'm sure many others feel the same. There are not many left among us that have the character of this gentleman. If you have time, stop by our building and say hello to Ernie. If you have never met Ernie, take the time to stop by and introduce yourself - you are guaranteed to be impressed by this special man.
Submitted by,
Cheryl Delea, Assistant Director
Sussex County Facilities Management Division