Please select a year.
Please Respond Today to Your 2020 Census Questionnaire
Release Date: June 30, 2020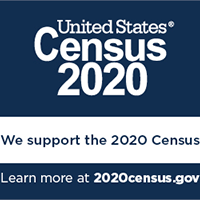 Each year, the Federal Government spends approximately $675 billion on programs and services that directly support local communities. This includes money for healthcare, affordable housing, transportation, National School lunch program, WIC and SNAP benefits to name a few. All residents are urged to please take a few minutes and respond to their questionnaire. It takes 4-10 minutes.
Your responses are completely confidential and are not shared with any other Federal, State or Local Departments.
You can respond on-line or over the phone. Even if you cannot locate your Census ID, or did not get one yet due to your remote living location, you can still respond now. The website to respond on, with or without a Census ID is www.my2020census.gov

If you are responding without your unique ID, there is a link underneath the ID box that says "I Do Not Have a Census ID" You just need to click that.
The phone number to respond is 844-330-2020
Every person can see the response rate for any community, and zoom in as close as Census Tracts. The website, which is updated daily is https://2020census.gov/en/response-rates.html

As of today, the United States is at 48.6%, New Jersey at 49.6% and Sussex County is at 51.4%
Some areas that are underperforming the County right now are Vernon, Montague, Wallpack, Sussex Borough, Hopatcong and Frankford.
What If My Sussex County Home Is Not My Primary Residence?
Even if your home in Sussex County is not your primary residence, it is still important to respond for your Sussex address. Under number of persons living there, enter "0". Otherwise, the address will go down as non-response. You will also be asked if you have responded from another residence. You would answer Yes.
---
English/Spanish 2020 Census homepage / https://2020census.gov/es

What Is the 2020 Census? / ¿Qué es el Censo del 2020?

Who To Count on Your Census / A quién contar en su censo

Impact in Your Community / El impacto en su comunidad

How the Census Bureau Protects Your Data / Cómo protege su información la Oficina del Censo

Facebook – @uscensusbureau
Instagram – @uscensusbureau
Twitter – @uscensusbureau

Hashtag – #2020Census