Please select a year.
Sussex County Farmland Preservation Program
Release Date: January 26, 2011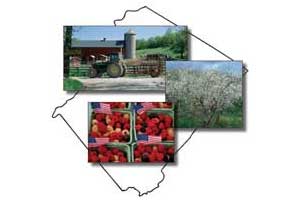 Sussex County Farmland Preservation Program
Sussex County continues to have a successful Farmland Preservation program. A dedicated tax was approved by the voters of Sussex County in 2005 that provides program funding. These funds are leveraged against State Agriculture Development Committee funding and Federal Farm Bill monies to increase our ability to preserve farms in perpetuity. There are now 154 preserved farms in Sussex County, encompassing 16,234 acres, that will remain in agriculture. This program keeps the land in private ownership where it remains on the tax rolls as farm assessed property; only an easement is purchased. 2010 was a very busy year for farms to enter into farmland preservation - the County closed on 15 farms totaling 1,433 acres. An additional fourteen farms, totaling approximately 747 acres, are anticipated to close in the next several months. Although there is less money available than in past years, the program, through partnerships with the State and environmental non-profits, continues to add significant parcels to the protected farmland resource.
Farmland preservation protects the land base and supports the agricultural industry - but this program is only one important component of the changing face of agriculture. In Sussex County, where dairies once abounded, beef cows are now the norm. There has also been a tremendous increase in nursery and greenhouse operations (NJ now ranks 8th in the nation for the horticulture industry), livestock (including sheep, goats and alpacas) and Christmas tree farms. Technological advances allow higher crop yields on smaller parcels. The increasing urban/suburban population within an hour's drive time to Sussex County provides opportunities for farmers to offer agritourism activities which have become increasingly important for maintaining a farm's viability. These activities include Pick Your Own vegetables and fruit, Cut Your Own Christmas trees, harvest hayrides, horseback riding, and pumpkin picking. For more information about farms participating in agritourism, visit www.sussexfarmvisits.com. For an application for farmland preservation, contact dtraylor@sussex.nj.us. And check out the Sussex County Board of Agriculture on-line forum at www.sussexcountyboardofagriculture.org.