Please select a year.
Grand Marshal of County Veterans Parade Announced
Release Date: October 25, 2010
FOR IMMEDIATE RELEASE                         CONTACT:
[Release Date]                                             Stephen Gruchacz, Department Administrator
Grand Marshal of County Veterans Parade Announced

(Augusta, NJ)            The Sussex County Veterans Committee is pleased to announce thatReverend Ernest M. Kosa, retired Army Chaplain and Veteran of both the Korean and Vietnam Wars will serve as Grand Marshal of the Parade at Sussex County's 10th Annual Salute to Military Veterans on Sunday, November 7, 2010, at 2 p.m., at the Sussex County Fair Grounds.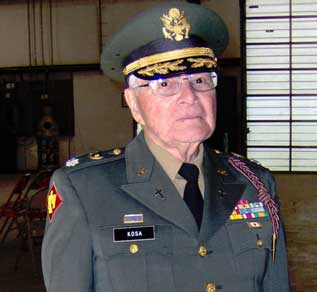 Rev. Kosa began his 20 year military career in 1952.    In addition to serving in Korea and Vietnam, he was stationed at various bases in the U.S. and twice in Germany. In November 1971, Lt. Colonel Ernest M. Kosa received the Bronze Star for "distinguishing himself by meritorious service" in connection with military operations against a hostile force in the Republic of Vietnam.   
            Rev. Kosa is a member of the Sussex County Veterans Committee and has diligently worked on planning each year's Salute to Military Veterans and delivering the Invocation during the ceremonies.   
            All Veterans, Active Duty Military Personnel, their families, friends and the public are cordially invited to join the festivities at the 10th Annual Salute to Military Veterans.   In addition to the Parade, attendees will enjoy a Fly-over of World War II Military Air Craft and a surprise special tribute to our Veterans coordinated by Respectfully Yours.   Ceremonies include a POW/MIA Remembrance, Rifle Salute and TAPS.   The Sussex County Board of Chosen Freeholders will distribute commemorative pins to all Veterans.   Ceremonies will be followed by viewing of exhibits, entertainment and complimentary refreshments in the Richards Building.
The VA Mobile Health Unit will be on site.
            For additional information, contact Sussex County Department of Human Services, Division of Senior Services at 973-579-0555 or seniorservices@sussex.nj.us