Farmland Preservation Plan
Page Navigation

Close
Farmland Preservation Plan
Comprehensive Farmland Preservation Plan
Updated May 2008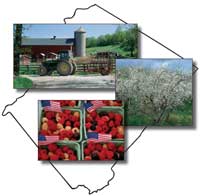 Since the program's inception in 1983, the County Agriculture Development Board has preserved 9,468 acres of farmland with another 2,894 acres pending in 2007. At the end of 2007, the SCADB will have preserved a total of 12,362 acres of farmland in Sussex County.

This Comprehensive Farmland Preservation Plan identifies ten Project Areas in which future farmland preservation efforts will be concentrated.

The document links below require Adobe Acrobat Reader.