Hamlet of Lockwood
Page Navigation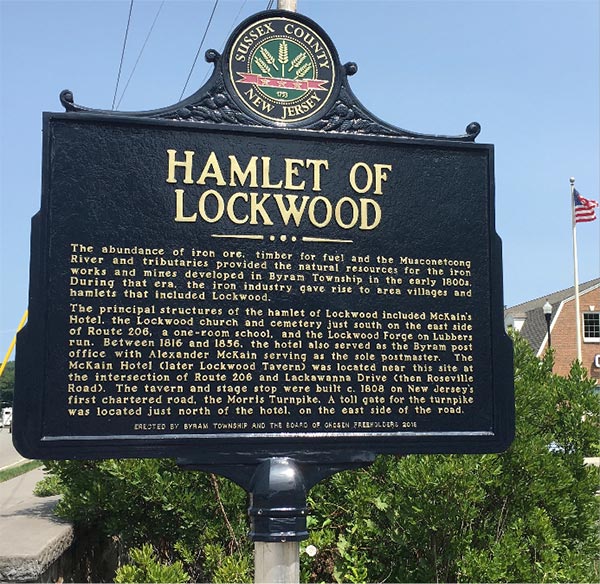 HAMLET OF LOCKWOOD (2019)

Placed in 2019 at the Byram Township Park Plaza:
North East corner of intersection of Route 206 and Lackawanna Drive (CR607). The Park created as part of route 206 improvement and is Sussex County property that was formerly County Road 607 right-of-way. Across the street the new CVS is the former location of the Lockwood Tavern mentioned in the description.

The abundance of iron ore, timber for fuel and the Musconetcong River and tributaries provided the natural resources for the iron works and mines developed in Byram Township in the early 1800s. During that era, the iron industry gave rise to area villages and hamlets that included Lockwood. The principal structures of the hamlet of Lockwood included McKain's Hotel, the Lockwood church and cemetery just south on the east side of Route 206, a one-room school, and the Lockwood Forge on Lubbers Run. Between 1816 and 1856, the hotel also served as the Byram post office with Alexander McKain serving as the sole postmaster. The McKain Hotel (later Lockwood Tavern) was located near this site at the intersection of Route 206 and Lackawanna Drive (then Roseville Road). The tavern and stage stop was built c. 1808 on New Jersey's first chartered road, the Morris Turnpike. A toll gate for the turnpike was located just north of the hotel, on the east side of the road.