County of Sussex Awarded 5th Year in a Row in Digital Counties Survey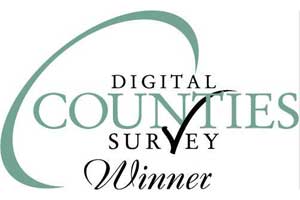 2014
2013
2012
2011
2010

---
County of Sussex wins First Place in 2012 Digital Counties Survey
"The Digital Counties Survey identifies the very best examples of how counties are aligning technology to support strategic priorities and create crucial operational and administrative efficiencies," said NACo Executive Director Larry E. Naake. "Especially important during these tough economic times, counties across the country are using innovative technologies to reduce county operations costs and enhance service delivery."
Press Release

Sussex County, N.J. (150,000 - 249,000 population category)
In Sussex County, N.J., IT officials were looking for ways to control operating expenses while making sure they could maintain the county's vast network in a secure environment. Cities within the county also struggled to support distributed infrastructure across multiple sites while managing costs.
"Maintaining distributed individual silos of physical servers and data centers is not a very efficient business model," Sussex County CIO William Kosinetz explained. The innovative virtualization solution now in use throughout Sussex County earned a first-place 2012 Digital Counties award.
Kosinetz describes the model as a "holistic hybrid" of public cloud, private cloud and on-premise computing, where all computing resources are combined into one resource pool. Those resources are then split into separate networks within the private cloud to provide service to individual entities. The 24 towns within the county now can secure segregated space within this private cloud. Operating expenses have been slashed by as much as 45 percent.
Virtualizing servers in the cloud allows the county to run 86 virtual servers on 6 physical servers. Desktop virtualization gives the network the capacity to run 500 desktops on an additional 7 physical servers. Using blade servers, rather than traditional rack-mounted servers, shrinks the carbon footprint even more, due to less wiring and cabling. Power consumption has been cut by up to one-fourth.