Breast Cancer
Page Navigation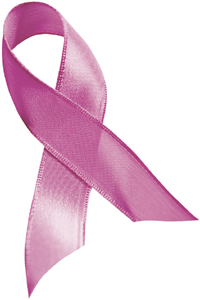 Breast cancer is the most common cancer among American women, second only to skin cancer. According to the most recent statistics from Centers for Disease Control and Prevention (CDC), more than 202,964 women were diagnosed with breast cancer and 40,598 women died from breast cancer in 2007. Screening, or checking the breasts for cancer before there are signs or symptoms of the disease, is essential since early detection can increase the chances of surviving the illness. A clinical breast exam and a mammogram are several tests that are used to check for breast cancer. According to the American Cancer Society, women in their 20s should be aware that there are benefits and limitations of breast self-exam (BSE). It is important for women to know how their breasts normally look and feel, reporting any new breast changes to a health professional as soon as they are found.
Some people are at higher risk for developing breast cancer, especially those with a family history of breast cancer. Some other risk factors include being overweight, lack of daily exercise, the use of alcohol, long-term use of hormone replacement therapy and getting older. However, you can lower your risk by getting screened regularly and living a healthy lifestyle. Remember, early detection is key!
Further information may be obtained by going to the following websites:

National Cancer Institute 


Centers for Disease Control and Prevention (CDC) 


American Cancer Society 


National Institute of Health (NIH) 

The Sussex County Division of Health offers free breast cancer screenings for women 40 and older who qualify financially, through the New Jersey Cancer Education and Early Detection Program.
---

"The Sussex Warren County Regional Chronic Disease Coalition is made possible by a grant from the New Jersey Department of Health, Office of Cancer Control and Prevention. The mission of the Sussex Warren County Regional Chronic Disease Coalition is to implement the New Jersey Comprehensive Cancer Control Plan in Sussex and Warren County. For more information on Comprehensive Cancer Control in New Jersey, please visit: OCCP 

."
---