Clean Communities
Page Navigation

Clean Communities Program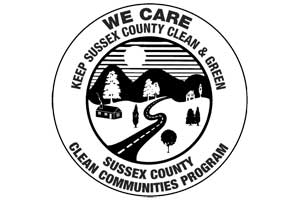 Litter can be an unsightly health hazard that interferes with the enjoyment of public places and lowers the quality of life of residents in the community. One program that helps to keep Sussex County clean is the Clean Communities Program. New Jersey Clean Communities

is a grassroots, statewide, community-driven litter-abatement program developed to reduce litter in New Jersey. The purpose of the Clean Communities initiative is to encourage county-wide comprehensive programs, which support the cleanup, enforcement and education through volunteer clean-ups and maintenance of public lands, school related educational activities and litter abatement measures. The Clean Communities Program identifies litter problems and helps to determine appropriate solutions. Most municipalities in Sussex County have municipal-level programs available to their residents, which are organized by local Municipal Coordinators.
The program is funded by the Clean Communities Act, passed in 1986, which helps to generate program funding by placing a user's fee on businesses that produce litter-generating products. Clean Communities is managed by the New Jersey Department of Treasury, the New Jersey Department of Environmental Protection and the New Jersey Clean Communities Council. The program mission helps to promote change in attitudes with regards to littering and the irresponsible handling of solid waste through public information and education. The Council receives a $300,000 grant after July 1 of each year and works with the state to oversee the implementation of litter abatement programs in 559 eligible municipalities and 21 counties. They also serve as resource for information and provide a forum for the exchange of ideas.
Equipment is available for loan to municipalities and/or organizations that are involved in litter-abatement activities. Available equipment includes rakes, shovels, safety vests, safety cones, flags, wheel-barrows, litter pickup sticks, signs, gloves, bags, first aid kits, etc.
For more information about the Clean Communities Program or to get involved, contact Jennifer Shortino, the Sussex County Program Coordinator, at 973-579-0370.