Poll Workers
Page Navigation

Poll Workers and Support Staff Wanted!
Submit Online Poll Worker Application
---
Champions of Democracy Needed
Do you know someone who is ...
P
ositive
O
utgoing
L
ively
L
ikeable
W
illing
O
rganized
R
esponsible
K
ind
E
nergetic
R
eliable
"The best part about being a Poll Worker is getting to see all your neighbors and everyone who comes in to vote. It really is a social thing, and you get paid to do it!" says Kim Sidoti, former Poll Worker and current Poll Worker Coordinator for the Sussex County Board of Elections. She agrees that "the $200 a day is a perk for the long hours."
Sussex County consists of 119 voting districts and employs about 480 Poll Workers for each county-wide election (June and November). The day is usually 15 hours long, and is very rewarding because you are a vital part of the American Democratic process.
The Board of Elections is currently looking to fill positions throughout the county because openings constantly become available due to illness, vacation, or retirement. Poll Workers are usually placed in or near their home town. If you, or someone you know, is interested in joining our team, please contact Kim at 973-579-0950 x 4 or email her at PWinfo@sussex.nj.us. Training will be provided free of charge, contact the BOE and become a Champion of Democracy today!
Poll Worker Application
A Poll Worker's Journey Video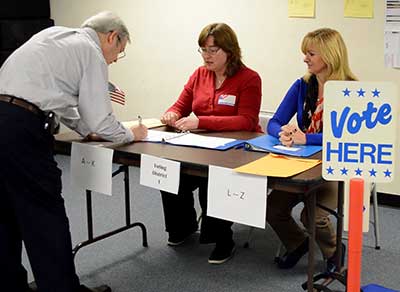 ---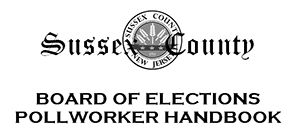 Thank you for being a Sussex County election worker!
The Poll Worker Handbook describes procedures to be followed on Election Day at your assigned polling place. The handbook is provided to the Poll Workers on Election Day as part of their supplies. For convenience, you may also refer to an electronic copy below.
All of the documents below require a PDF reader.
Download Adobe Reader here
---
Poll Worker Training Videos
These YouTube videos are used to supplement the classroom training offered to all Sussex County Poll Workers.