Bridge H03 Replacement
Page Navigation

The Re-opening of County Route 622 Bridge H-03 over the Paulins Kill Lake in Hampton, NJ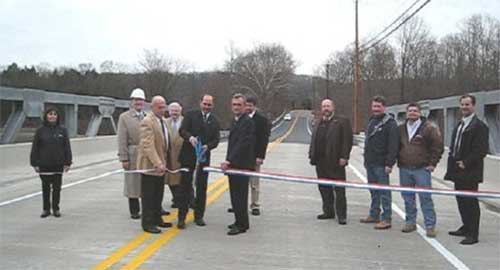 Freeholder Director Glen Vetrano cuts the Ceremonial Ribbon for the Re-Opening of the County Route 622 Bridge H-03 over the Paulins Kill Lake with the assistance of Hampton Township Mayor Phillip Yetter and Stillwater Township Mayor William Morrison.
The new 75 ft. long Bridge H-03, which replaced the 83 year old deteriorated existing bridge, was built by Lakeside Construction of Hopatcong, NJ and remarkably took just under four months to construct at a cost of $2 Million. The roadway was re-opened to two way traffic in November, 2009.
During the development of plans for the new bridge, local historians advised the County that the original Bridge H-03 built circa 1890 was a metal truss bridge on stone masonry abutments located several hundred feet downstream of the existing bridge. With the support of the Sussex County Board of Chosen Freeholders, the new bridge was designed as homage to the historic original bridge using a galvanized steel truss bridge with faux masonry abutments.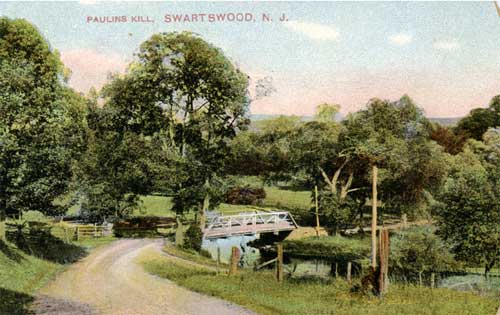 Subsequently, a beautiful historic picture postcard from 1912 showing the original bridge (as seen above) was made available to the County of Sussex courtesy of Mr. Donald A. Robbins of Newton, NJ. The hand written text on the backside of the 97 year old postcard reads:
"This is the drive between Newton and Swartswood and a pretty one it is. Very hilly and some fine views of the Blue Ridge Mts. at different points along the road. Edith's friends have a "Ford", so they take us around some. A very rolling country and fine farms every where."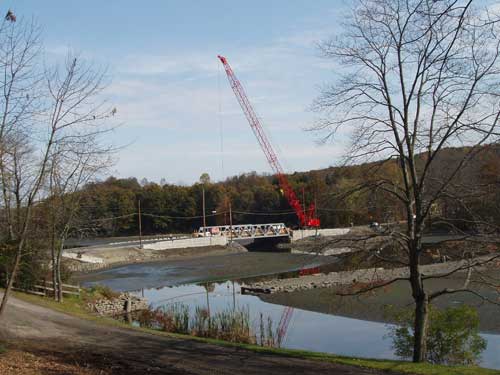 During the final construction work on the new Bridge H-03, the Paulins Kill Lake was lowered revealing the remnants of the original stone masonry abutments and approach roadway still visible on the lake bottom down stream of the new bridge. With imminent re-filling of the Lake the remnants of the original bridge from 1890 will soon again disappear, and residents will see only the new steel truss bridge on faux stone masonry abutments. The new Bridge H-03 will faithfully serve for many years as homage to what can only be glimpsed in a historic picture postcard of this pastoral setting almost 100 years ago.
Prepared by:
Walter H. Cramp, P.E., Sussex County Engineer
Administrator, Sussex County Department of Engineering & Planning
December, 2009