2nd Annual 21st Century Drug & Violence Prevention Training Conference
Release Date: March 23, 2017
In 2014, a group of law enforcement and educational leaders banded together with the single mission to develop a comprehensive, evidence-based system for law enforcement agencies to provide effective drug and violence prevention methods to their communities.
2nd Annual 21st Century Drug & Violence Prevention Training Conference, Hosted By L.E.A.D.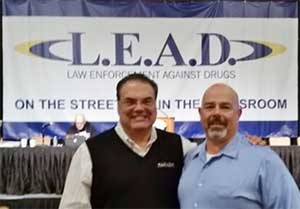 Sussex County Municipal Alliance Coordinator Nick Loizzi (r) with L.E.A.D. Executive Director Nick DeMauro
The Second Annual 21st Century Drug & Violence Prevention Training Conference, hosted by L.E.A.D. (Law Enforcement Against Drugs) was held on February 27 through March 1, 2017, at Harrah's Convention Center in Atlantic City. After its successful rollout in New Jersey and under the direction of Nicholas DeMauro, the group's Executive Director and C.E.O., L.E.A.D.'s efforts have been expanded to reach classrooms in eleven states including Georgia, Tennessee, Massachusetts, New Hampshire, and soon Montreal, Canada. L.E.A.D. utilizes the Mendez Foundation's "Too Good for Drugs" program, an evidence-based curriculum for Kindergarten through 12th grades. In Sussex County, the L.E.A.D. program has been introduced in schools which formerly conducted the D.A.R.E. program. The Sussex County Municipal Alliance assists many of these programs with funding through local municipal alliances. The Sussex County Sheriff's Department, Andover, Byram, Hardyston, Ogdensburg, Stanhope, and Newton Police Departments have several certified L.E.A.D. Officers. Hardyston Police Chief Bret Alemy currently serves on the L.E.A.D. Law Enforcement Advisory Board. Nick Loizzi, Sussex County's Municipal Alliance Coordinator and Alcohol and Drug Abuse Director, serves on the Government Advisory Board.
The conference consisted of training sessions for L.E.A.D. Officers and a variety of special presentations from prevention and law enforcement professionals. Joe Piscopo, formerly of Saturday Night Live, welcomed the conference attendees and hosted a reception on Monday evening.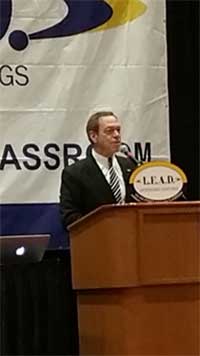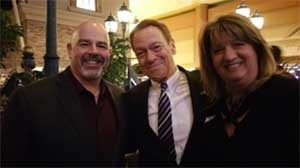 Nick Loizzi (l), Joe Piscopo (c), Kim Loizzi (r)
Some of the important topics discussed included: Cyberbullying in Today's Society by "STOPit!"; a keynote address and presentations by Michelle Gay, Co-Founder of "Safe and Sound - A Sandy Hook Initiative"; and, a special presentation was given by Phil Chalmers, author of "Inside a Mind of a Teen Killer."
On Wednesday, March 1st, there was a panel discussion addressing the Heroin and Opiate Drug Problem titled "How Did We Get There, Where Are We Going, and Is Marijuana a Trigger?" The panel consisted of Dr. Zili Sloboda, President of Applied Prevention Science International; Dr. John Carnevale, President of Carnevale Associates; Joseph Coronato, Ocean County Prosecutor; and, Douglas Collier, Drug Initiative Coordinator & Law Enforcement Liaison - NJ Attorney General.
For more information see the following websites:
---