Please select a year.
Sussex County Mental Health Board Seeks New Members
Release Date: June 02, 2020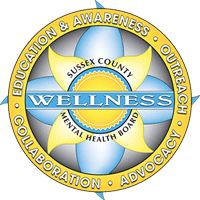 The mission of the Sussex County Mental Health Board is to promote access to and availability of efficient, adequate, integrated health care services for adults with serious mental health and/or substance use disorders and for children and adolescents with emotional, behavioral and mental health disorders. To accomplish this mission, the Mental Health Board embraces the following principles for health planning:
Consumer-focused Services
Individualized Care
Wellness and Recovery Model
Evidenced-based Practices
Cultural Competence
One current goal of the Mental Health Board is to promote the Change Direction Campaign to recognize and respond to the five signs of emotional suffering.
Presentations of local mental health services and options are presented at monthly meetings.
The Sussex County Mental Health Board is always looking for new members. Members must live in Sussex County, be a consumer of mental health services or a family member of a consumer with an interest in advocating for mental health services in the County, or a mental health professional not employed by a treatment provider.
The Mental Health Board meets on the third Thursday of each month. Due to the current COVID-19 public health crisis, meetings are currently being held online. If you would like to attend a meeting or obtain more information about the Mental Health Board and learn how you could advocate for mental health in Sussex County, please contact Cindy Armstrong, Mental Health Administrator, at 973-940-5200, ext. 1371 or email at carmstrong@sussex.nj.us.