Please select a year.
Health & Human Services Administrator Carol Novrit Recognized by New Jersey Associations in October
Release Date: October 24, 2018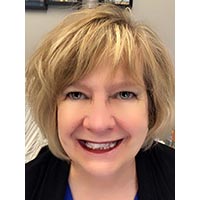 Sussex County Health and Human Services Administrator Carol Novrit was recognized on two occasions during the month of October for her crucial role in providing essential services and safe, reliable transportation options to Sussex County residents.
Carol has extensive experience in the human services field and served nine years as the Social Services and Transit Director in Sussex County prior to her current appointment in 2016 as the Health and Human Services Administrator. Carol's strong managerial skills and compassion accompanied by sheer will allowed her to foster strong relationships within the community and helped navigate the path for Sussex County residents to connect with valuable services and resources.
The New Jersey Council on Special Transportation (NJ COST) named Carol the 2018 Administrative Employee of the Year during its 23rd Annual Vendor Expo at the NJ Convention and Exposition Center in Edison on October 9, 2018. NJ COST is a statewide association for providers of transportation services for senior citizens, persons with disabilities, low income, welfare to work and job access. Carol's exceptional leadership skills and "can do" attitude pioneered the evolution of the Sussex County Skylands Ride public transit system into a community based organization designed to meet the needs and expectations of those it serves.
Carol was also recognized as the 2018 Samaritan of the Year by the Samaritan Inn during its Grape Expectations annual fundraising event at the Lake Mohawk Country Club in Sparta on October 14, 2018. The Samaritan Inn, a 501(c)(3) not for profit organization, is recognized throughout Sussex County and the State of New Jersey as a leader in providing temporary to permanent housing, food, community case management and emergency shelter to families and individuals. Countless residents in need have been served as a result of Carol's ability to connect with community partners and organizations across Sussex County.
Reflecting upon her career thus far, Carol stated that the most rewarding aspect of her career was and always will be the lives she can impact and the people she can serve along the way.