Please select a year.
Be a Poll Worker!
Release Date: January 17, 2020
The Board of Elections is currently looking to fill Poll Worker positions throughout the county.
Be a Poll Worker!
Becoming a
"Champion of Democracy"
has rewards ...
Do you know someone who is ...
P
ositive
O
utgoing
L
ively
L
ikeable
W
illing
O
rganized
R
esponsible
K
ind
E
nergetic
R
eliable
"The best part about being a Poll Worker is getting to see all your neighbors and everyone who comes in to vote. It really is a social thing, and you get paid to do it!" says Kim Sidoti, former Master Poll Worker and current Poll Worker Coordinator for the Sussex County Board of Elections. She agrees that "the $200 a day is a perk for the long hours."
Sussex County consists of 119 voting districts and employs about 490 Poll Workers for each county-wide election (June and November). The day is usually 15 hours long, and is very rewarding because you are a vital part of the American Democratic process.
The Board of Elections is currently looking to fill positions throughout the county because openings constantly become available due to illness, vacation, or retirement. Poll Workers are usually placed in or near their home town. If you, or someone you know, is interested in joining our team, please contact Kim at 973-579-0950 x 4 or email her at PWinfo@sussex.nj.us. Training will be provided free of charge and has been scheduled for March and April - seats are limited so contact the BOE and become a Champion of Democracy today!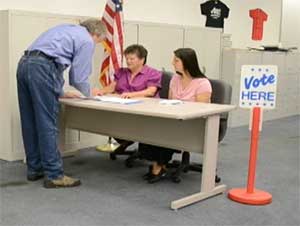 Have FUN while participating in democracy
Get paid $200
Meet friends and neighbors
Receive training free of charge