Please select a year.
September Is Library Card Sign-up Month
Release Date: September 09, 2020
September Is Library Card Signup Month - #whereintheworldislibrarycardwill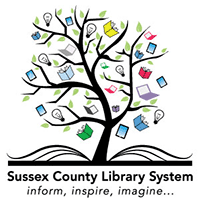 Newton, NJ – The Sussex County Library System (SCLS) is celebrating Library Card Sign-up Month this September with the social media campaign: #whereintheworldislibrarycardwill.
SCLS Director Will Porter, aka Library Card Will, is virtually traveling the world to share his love of reading and libraries. Photos of his travels are posted to the library's Facebook, Twitter and Instagram accounts. Identify his location in the comments section of any photo for a chance to win an Amazon Gift Card. You must be an SCLS cardholder to win. All Sussex County residents, property owners, students and workers (except Sparta) can apply for a free library card online at sussexcountylibrary.org/get-library-card
, or by visiting their local branch.
"Which brings us to another reason to celebrate," Mr. Porter stated. "We're open and eager to see you! Current guidelines have us at 25% capacity, so we're asking that you call or go online to schedule an appointment before coming in."
Library visits are scheduled for 45-minute increments starting at the top of each hour. Buildings are cleared at the 45-minute mark (e.g. 10:45, 11:45, etc.) to allow common touch surfaces to be sanitized before the next group of scheduled visits. All locations are open for scheduled visits Monday-Friday, and alternating Saturdays. The 10:00-10:45 a.m. timeslot is reserved for those with compromised immune systems. Borrowers who would rather not go inside can schedule no-contact "grab-and-go" pickups for requested items. Appointments can be made by calling your local library or online at https://www.picktime.com/scls.
"Library Card Sign-up month is a good time to remind people that we're open and ready to help," mused Mr. Porter. "Like many institutions, we've been faced with a lot of quick changes. Summer reading had to migrate quickly from weekly visits with stickers and little prizes for our youngest readers, to unlocking puzzles and activities for every milestone achieved in their online reading logs. But it worked! Our patrons logged an incredible 596,656 minutes of reading throughout July and August, and attended over 100 virtual library programs. We will continue to try out new technologies and expand the resources borrowers can access from home."
More detailed information about online scheduling and access to SCLS resources can be found at sussexcountylibrary.org or by calling your local library:
Main Library, 125 Morris Turnpike, Frankford – 973 948-3660
Dennis Branch, 101 Main Street in Newton – 973 383-4810
Franklin Branch, 103 Main Street, Franklin – 973 827-6555
Dorothy Henry Branch, 66 Route 94, Vernon – 973 827-8095
E. Louise Childs Branch, 21 Sparta Road, Stanhope – 973 770-1000
Sussex-Wantage Branch, 69 Route 639, Wantage, 973 875-3940