Please select a year.
Dec 6-12, 2020 is National Influenza Vaccination Week
Release Date: November 23, 2020
The Sussex County Division of Health reminds residents to get their flu shots; December 6-12 is National Influenza Vaccination Week.
The Sussex County Division of Health reminds residents to get their flu shots.
December 6-12 is National Influenza Vaccination Week.
It's Not Too Late to Vaccinate!
WHAT IS THE FLU?
Influenza, or flu, is a highly contagious respiratory illness caused by influenza viruses. Symptoms of the flu may include fever, cough, sore throat, runny nose, muscle or body aches, headaches, and fatigue.
These symptoms are very similar to the symptoms of the COVID-19 virus which has started a pandemic across the globe. These similarities may make it difficult to diagnose the illness based off of symptoms alone. If you are experiencing flu or COVID-19 like symptoms, contact a health professional and get tested. At that time STAY AWAY FROM OTHERS until the test comes back ruling out infection.
HOW IS THE FLU SPREAD?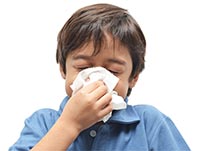 Photo: cdc.gov.
The flu is contagious; that is, it can spread easily to others. Most experts think that the flu is spread when a person with the illness coughs, talks, or sneezes, and then germs land in the nose or mouths of others nearby. Though rare, a person can also contract the flu by touching a surface that has the flu virus on it, and then touching their own nose, mouth, or eyes.
Most people with the flu are contagious from one day prior to symptom onset (before you even know you are sick!) to about three to four days after.
WHO IS AT RISK OF GETTING THE FLU?
Anyone, even healthy individuals, can get the flu. Some populations, including those aged 65 and older, pregnant women, children younger than age five, and people with certain chronic medical conditions, are at a higher risk of developing complications from the flu.
HOW CAN I PROTECT MYSELF?
The best way to protect yourself and your loved ones from getting the flu is to get vaccinated. A vaccine triggers your body to create germ-fighting proteins, or antibodies, against particular germs so that if you come into contact with those germs, your body is already prepared to fight them.
You can also minimize your risk of getting the flu by staying away from people who are sick, covering your nose and mouth when coughing or sneezing, and washing your hands frequently. Current social distancing guidelines due to the COVID-19 pandemic may also assist in minimizing the spread of the flu this season.
WHAT'S IN THE FLU VACCINE?
Each year, flu vaccines are developed based on what particular flu viruses scientists believe will be in circulation that year. Most flu vaccines protect against four different flu viruses ("quadrivalent"), while some protect against three influenza viruses ("trivalent").
There are several types of flu vaccines: inactivated influenza vaccine and recombinant influenza vaccine, both of which are administered intramuscularly with a needle, and the live attenuated influenza vaccine, which is a nasal spray.
The Centers for Disease Control and Prevention's (CDC) Advisory Committee on Immunization Practices (ACIP) recommends any one of these options, with no preference for one type over another.
CAN THE FLU SHOT GIVE ME THE FLU?
No, flu shots cannot give you the flu. Flu vaccines administered with a needle contain either killed influenza virus, or only a single gene from an influenza virus, neither of which can give you the flu.
The nasal spray contains live influenza virus, but the viruses are altered so that they cannot give you the flu.
Some people report mild reactions to the flu vaccine, including soreness, redness, tenderness, or swelling at the administration site. Low grade fever, muscle aches, or headaches may also occur. However, it's important to note that potential side effects of getting vaccinated against the flu are much less severe than symptoms you would experience if you actually became ill with the flu.
WHO SHOULD GET THE FLU VACCINE?
The CDC recommends that everyone six months of age and older receives a flu vaccine with rare exceptions. Get more information about who should (and should not) get vaccinated.
WHEN SHOULD I GET THE FLU VACCINE?
It's best to get vaccinated by the end of October, before influenza viruses typically begin to circulate. It takes your body several weeks after vaccination to develop antibodies to the flu. However, even when given at a later date during the flu season, the flu vaccine can still provide protection against the flu. It's not too late to vaccinate!
WHERE CAN I GET THE FLU VACCINE?
Flu vaccines are offered in many doctor's offices, clinics, health departments, and pharmacies. Check out CDC's Flu Vaccine Finder to find out where you can get a flu shot today.
Learn more about:
National Influenza Vaccination Week
https://www.cdc.gov/flu/resource-center/nivw/
Symptoms and Complications of Flu
https://www.cdc.gov/flu/symptoms/symptoms.htm
Flu Vaccines
https://www.cdc.gov/flu/prevent/keyfacts.htm
https://www.cdc.gov/flu/vaccines-work/vaccineeffect.htm
Misconceptions about Flu Vaccines
https://www.cdc.gov/flu/prevent/misconceptions.htm
Flu Viruses
https://www.cdc.gov/flu/about/viruses/index.htm
Vaccine Information Statements (VIS)
https://www.cdc.gov/vaccines/hcp/vis/vis-statements/flu.pdf
https://www.cdc.gov/vaccines/hcp/vis/vis-statements/flulive.pdf
The Difference Between the Flu and COVID-19
https://www.cdc.gov/flu/symptoms/flu-vs-covid19.htm
Photos courtesy of cdc.gov.