Please select a year.
Sussex County Skylands Ride "System of the Year"
Release Date: September 13, 2010
NJ Council on Special Transportation Names Skylands Ride State "System of the Year"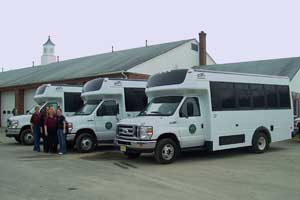 The County of Sussex is extremely proud to announce that Sussex County Skylands Ride has been selected by the New Jersey Council on Special Transportation (NJCOST) as the "Outstanding Transportation System of the Year." This prestigious award will be presented to Sussex County Skylands Ride during the 15th Annual NJ COST Vendor Expo at the PNC Bank Arts Center/Robert B. Meyner Reception Center in Holmdel on Friday, September 17, 2010. Sussex County Skylands Ride is the County's transit system providing both public and demand response transportation to Sussex County residents.
This is the second year in a row that Sussex County has been recognized by NJ COST. In 2009, Skylands Ride Program Coordinator John Jackson and Supervising Omnibus Operator Linda Phister were co-recipients of the "Administrator of the Year" award. Eighteen Omnibus Operators also received safety awards this past August in recognition of their safe driving records during the past year. This is especially impressive since Skylands Ride provided 120,560 rides during 2009. Each and every Skylands Ride employee is commended for their true team efforts. Changes in Skylands Ride's operations, administration, scheduling, and overall vision over the past several years have strengthened their system and empowered them to become more efficient, increase their ridership, and improve their service as they strive to meet the transportation needs of a suburban community.
The New Jersey Council on Special Transportation (NJCOST) is a statewide association for providers of transportation services primarily for senior citizens, people with disabilities, and low income individuals, along with service to the general public, including welfare to work activities and job access among other destinations. Every year since 1992, NJ COST has honored a dedicated and outstanding transportation system with the "Outstanding Transportation System of the Year" award. This recognition goes to a community transportation system agency for excellence in service and development of innovative ideas to improve their system, all to provide the quality transportation their customers want, need and deserve.
NJ COST President John Adair stated, "NJ COST is honored to award our 2010 Outstanding System of the Year Award to Sussex County Skylands Ride. Over the last few years, their changes and improvements have been noted by the entire state of New Jersey's paratransit community. This award belongs to all the employees of the Sussex County Skylands Ride. To have recovered from a disaster a few years ago where more than one-third of Sussex County's vehicle fleet was destroyed by a fire and come back even stronger is amazing - Sussex County Skylands Ride is like the mythical phoenix rising literally from the ashes." Skylands Ride was further described as setting the standard for overcoming adversity and changing the very core of the work culture to raise their system above and beyond.