Please select a year.
2021 "Stuff the Bus" Donation Schedule
Release Date: November 10, 2021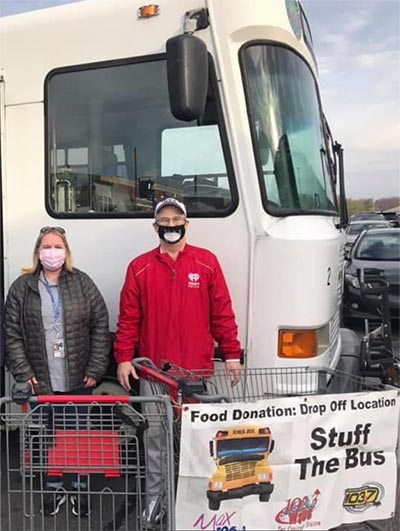 Dvision of Social Services Director Joan Bruseo with Steve Andrews of 102.3 WSUS
All donations will benefit the Sussex County Department of Health and Human Services, Division of Social Services Food Pantry and will be distributed to Sussex County residents in need.
Friday, November 19, 2021, from 3 p.m. – 6 p.m.
Lakeland Bank, 7 Town Center Drive, Sparta
Saturday, November 20, 2021, from 9 a.m. – 5 p.m.
ShopRite of Newton, 127 Water Street, Newton, NJ
ShopRite of Franklin, 270 Route 23, Franklin, NJ
Sunday, November 21, 2021, from 9 a.m. – 3 p.m.
ShopRite of Byram, 90-80 Route 206 North, Stanhope, NJ
ShopRite of Sparta, 18 North Village Boulevard, Sparta, NJ
WNNJ and WSUS Radio Talents will be on-site in Newton and Franklin on Saturday and Sparta and Byram on Sunday.