Please select a year.
September is Gynecologic Cancer Awareness Month
Release Date: August 28, 2020
Cancer ̶ a word that so many people fear, because it is a disease that is dangerous and life threatening.
Cancer itself is described as a disease that causes uncontrollable growth and spread of abnormal cells. This constant growth is dangerous and if not controlled can lead to death. More than 1.8 million new cancer cases are expected to be diagnosed within 2020 (Cancer.org). Cancer can affect many different parts of the body and in certain cases may only affect specific sexes.
Gynecologic cancers are a group of cancers that affect women and their reproductive system. The five most common gynecologic cancers are cervical, ovarian, uterine/endometrial, vaginal, and vulvar. Each gynecologic cancer has its own set of risk factors and symptoms. In some cases, early stages of these cancers do not have any symptoms which make them difficult to diagnose early. Starting treatment as early as possible is recommended when treating cancer as it helps to make treatment more effective.
The best way to detect these cancers early is to be regularly screened for them. This includes having a gynecologic exam and receiving a Pap smear. A Pap smear tests for irregular cells that may be cancerous. There are certain things that can increase a person's risk of developing gynecologic cancers. Bad health habits, genetics and persistent human papillomavirus (HPV) infection are three risk factors.
HPV infection specifically plays a big role in the development of cervical, vaginal, and vulvar cancers. It is important to remember that anyone can contract HPV, not just women. Receiving a vaccination that helps to protect against HPV infection is an effective way to prevent the development of gynecologic cancers.
The Sussex County Division of Health, Office of Public Health Nursing offers gynecologic services through the NJ Cancer Education and Early Detection (NJ CEED) program. The NJ CEED program is a grant funded program that provides early cancer detection services for men and women. Other than gynecologic services, such as Pap smears, colorectal and breast health services are also offered. In some cases, those who are uninsured may qualify to receive free services from the NJ CEED program offered in their county.
To obtain more information about these services or schedule an appointment, contact the Sussex County Division of Health, Office of Public Health Nursing at 973-579-0570, extension 1246, Monday through Friday from 8:00 a.m. to 4:30 p.m., or visit www.sussex.nj.us/nursing. Pre-registration is required, and participants must have an appointment as walk-ins will not be accepted.
For more information about gynecologic cancers and their symptoms visit:
https://www.foundationforwomenscancer.org/events-courses/gynecologic-cancer-awareness-month/
https://www.cancer.org/cancer/vulvar-cancer/causes-risks-prevention/risk-factors.html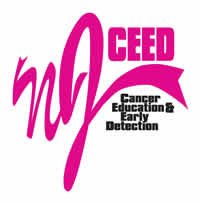 ---