Please select a year.
Mary Ann Warner Receives the Visions Award
Release Date: February 28, 2020
Mary Ann Warner, Sussex County Skylands Ride Omnibus Operator Receives the Visions Award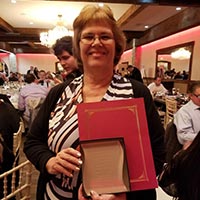 Mary Ann Warner was presented the Visions Award from the Newton Medical Center Foundation at its Heart and Soul event held at Perona Farms on February 26, 2020.
On the morning of January 21, 2020, when Mary Ann picked up a long-standing passenger to drive him to his place of employment, she noticed that he was not his usual self. He was breathing heavily and sweating, and admitted that he did not feel well. She was very concerned and suggested that she drive him to Newton Medical Center instead of work. The passenger insisted that he needed to get to work, but Mary Ann followed her instincts and drove straight to the hospital. Once there, he allowed another passenger to assist him into the ER.
Later that day, Skyland Ride staff received a call from "Kyle," a nursing coordinator at Newton Medical Center. He told the staff what Mary Ann had done; and he added that the patient had gone into cardiac arrest while in the ER. They were able to revive him, and he was airlifted to Morristown Medical Center. Kyle was extremely pleased with Mary Ann's quick thinking and concern for her passenger. He submitted her name to receive an award from the hospital.
The County of Sussex, Department of Health and Human Services, and Skylands Ride commend Mary Ann on her quick thinking and compassionate response to a situation that saved the life of a passenger.