Please select a year.
Healthy Habits: Safe Holiday Travel
Release Date: November 21, 2019
Healthy Habits: Safe Holiday Travel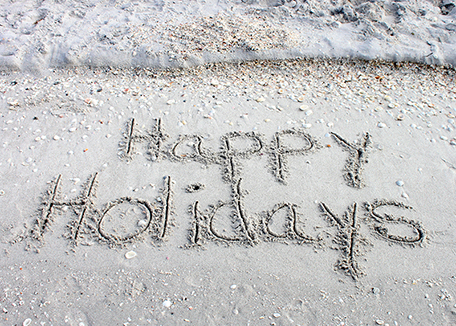 photo:cdc.gov
Traveling for the holidays? Whether you're going to a sandy beach or a snow-capped mountain, make safety a part of your travel plans.
Before you set off...
Learn about health concerns

at your destination, and make an appointment with your healthcare provider to discuss potential health risks, as well as any necessary vaccines or medications.
Make sure your

vaccines

, including flu and measles, are

up to date

. Keep in mind that it takes your body about two weeks to create antibodies against the flu after being vaccinated, so get your flu shot at least two weeks prior to travel.
Pack a

travel kit

that contains over-the-counter and prescription medications (more than enough to last your whole trip), as well as first aid and basic health supplies (sunscreen, insect repellent, etc.).
Enroll with the Smart Traveler Enrollment Program on the U.S. State Department website if you are traveling abroad. This is a free service through which you can receive the

latest safety and security information

, and it allows the U.S. Embassy or consulate to

contact you

in an emergency.
Find out if your

health insurance

covers medical care abroad. Also, leave copies of important documents, like your itinerary, credit card information, and passport, with somebody at home in case you lose them while traveling.
During your trip...
Buckle up, and

choose safe transportation

methods. Avoid overcrowded buses and vans. Be alert when crossing the street, especially in countries where people drive on the left side of the road.

Prevent bug bites

. Ticks, mosquitoes, fleas, and flies can all cause illness. Use an EPA-registered insect repellent made with DEET, picaridin, IR3535, oil of lemon eucalyptus, para-menthane-diol, or 2-undecanone. Learn more from the Centers for Disease Control and Prevention about health risks associated with bug bites and how to prevent illness during your trip.
Prevent food and water-borne illness by eating

only fully cooked foods

that are served hot. Do not eat fresh fruits and vegetables

unless you can peel them yourself

. Drink only

bottled

and

sealed

beverages. Avoid ice, as it was likely made with tap water.
Wear

sunscreen SPF 15 or higher

when outdoors, in any temperature. It's important to remember that you can still get sunburned even if it's cold or cloudy out. Sunscreen is not only for the beach.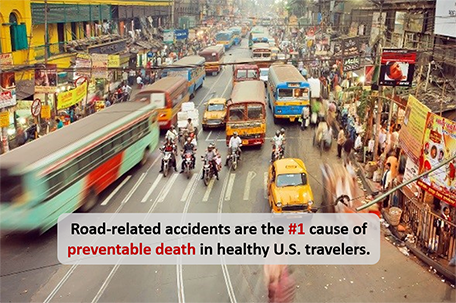 photo:cdc.gov
When you get home...
Seek medical attention if you do not feel well when you return from your trip, and be sure to

discuss where you have traveled

with your health care provider.
Learn more from the Centers for Disease Control and Prevention about safe holiday travel:
https://wwwnc.cdc.gov/travel/page/traveling-holidays

Photos courtesy of cdc.gov