Please select a year.
Rehabilitation or Replacement of County Bridge K-03 aka River Styx Bridge
Release Date: January 24, 2019
OFFICE OF THE COUNTY ADMINISTRATOR
Sussex County Administrative Center
One Spring Street
Newton, N.J. 07860
Tel. 973-579-0250 Ext. 1100
E-mail:
gpoff@sussex.nj.us
Gregory V. Poff II
County Administrator
FOR IMMEDIATE RELEASE: JANUARY 23, 2019
Contact: Sussex County Administration, 973-579-0250
Sussex County Applies To The North Jersey Transportation Authority For Concept Development Study For The Rehabilitation Or Replacement Of County Bridge K-03 Aka River Styx Bridge
Newton, NJ – The Board of Chosen Freeholders is pleased to announce it has authorized an application to the North Jersey Transportation Authority (NJTPA) for the FY 2020 Local Concepts Development (LCD) Grant. The purpose of this grant application is to access grant funding for the rehabilitation or replacement of Sussex County Bridge K-03 which carries County Route 607, aka River Styx Road, over Styx River/Lake Hopatcong in the Borough of Hopatcong. This is the longest bridge Sussex County owns and at a minimum is in need of rehabilitation within the next 8 years.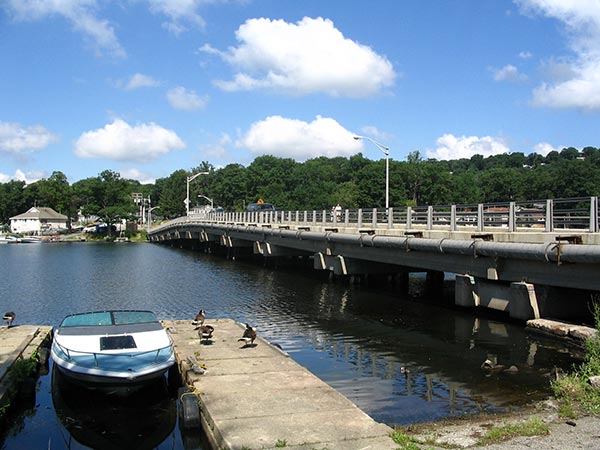 The LCD Grant is strictly limited to Phase One (the Planning Phase) of the potential Bridge Rehabilitation/Replacement Project. If the County is successful in obtaining the LCD Grant, the County will proceed with the additional phases of Preliminary Engineering, Final Design/Right-of-Way, and Construction. The total rough estimated cost for the replacement of the Bridge is $17M to $22M. The estimated County contribution to the replacement is $4M with potential grants (through the NJTPA LCD Grant) of $18M.
The NJTPA is the entity responsible for the development of regional transportation plans and programs and has established the Local Capital Project Delivery (LCPD) Program, which is a competitive program that can provide funding for the advancement of locally proposed transportation projects utilizing federal funding. The initial phase of work in the LCPD Program is the Local Concept Development Phase, during which alternatives for a proposed transportation project are identified, compared and a preliminary preferred alternative selected.
The Borough of Hopatcong has passed a resolution in support of the County's application to the FY 2020 Local Concepts Development Grant for the possible rehabilitation or replacement of Sussex County Bridge K-03 in the Borough. The Borough identifies the Bridge as a critical link in the River Styx Corridor in support of the Borough's vision of revitalizing the area between Hudson Maxim School and the area immediately beyond the Bridge.