Please select a year.
NJ Council on Special Transportation (NJ COST) 2018 Administrative Employee of the Year
Release Date: December 27, 2018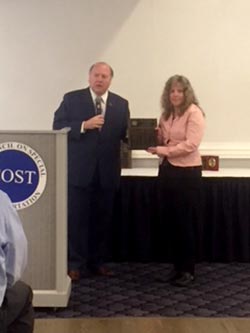 Sussex County Community and Youth Services Director Christine Florio accepted a traveling plaque from NJ COST in recognition of its 2018 Administrative Employee of the Year award that was presented to Health and Human Services Administrator Carol Novrit in October. NJ COST President Michael Vieira presented the plaque to Ms. Florio during the December NJ COST Reorganization Meeting in Manalapan. The plaque will be on display at the County of Sussex until another recipient is selected for this award in 2019.