Please select a year.
Operation Helping Hand
Release Date: July 02, 2018
Attorney General Grewal and Partners Announce Results of Five-County Collaboration to Fight Opioid Addiction in "Operation Helping Hand"
Attorney General Grewal and Partners Announce Results of Five-County Collaboration to Fight Opioid Addiction in "Operation Helping Hand"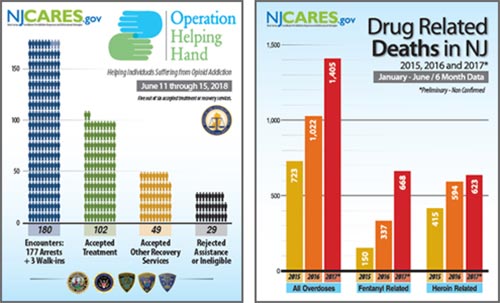 PARAMUS, N.J. – Attorney General Gurbir S. Grewal today announced the results of an innovative five-county collaboration involving law enforcement, county government, and addiction service agencies to connect individuals suffering from the disease of addiction with vital recovery services through "Operation Helping Hand."
Attorney General Grewal made the announcement at New Bridge Medical Center in Paramus, where he was joined by Bergen County Executive James J. Tedesco III, New Bridge President and CEO Deborah Visconi, Acting Bergen County Prosecutor Dennis Calo, Morris County Prosecutor Fredric M. Knapp, Passaic County Prosecutor Camelia M. Valdes, Sussex County Prosecutor Francis A. Koch, Acting Union County Prosecutor Michael A. Monahan, and many other leaders and members of law enforcement, government, and the nonprofit and service-provider community.
Attorney General Grewal developed Operation Helping Hand as a new way to combat the heroin and opioid crisis in Bergen County while serving as county prosecutor. Encouraged by its success there, he is implementing a plan to expand Operation Helping Hand throughout New Jersey. The strategy involves law enforcement officers arresting users purchasing heroin – or, in some cases, other narcotics – at open-air drug markets. When the users are brought to the police station or prosecutor's office for processing on narcotics possession charges, recovery specialists are waiting to connect them with treatment and recovery services. The charges are not dropped if the user accepts help, but every effort is made to place him or her on the path to recovery.
A total of 177 users were arrested in Operation Helping Hand from June 11 through 15 by law enforcement officers from Bergen, Morris, Passaic, Sussex and Union counties. Of those 177 people, a total of 148 – or five out of every six users arrested – accepted the offer of treatment or recovery support services. Only 29 rejected the offer of help. There were three additional "walk-ins" who were not arrested, but who were offered and accepted help after they learned of the program. Of the 151 who accepted help, including the walk-ins, a total of 102 accepted treatment – meaning in-patient detox, or in-patient treatment, or intensive outpatient treatment, or medically assisted treatment, or a combination thereof – and the other 49 accepted other recovery support services. Union County arrested 100 users, with 81 accepting help. The four northern counties arrested 77 users, with 67 accepting help.
"These results are extraordinary and are a testament to the dedicated work of all who participated in this unprecedented operation in New Jersey," said Attorney General Grewal. "While we know some of these heroin users who accepted detox beds or support services will lapse into drug use again, there can be little doubt with these numbers that lives were saved – that heroin users who would have become statistics of the opioid epidemic will instead recover and reclaim their lives."
"The results of this five-county operation reaffirm my strong belief that Operation Helping Hand is a program we need to implement throughout New Jersey and offer as a model to other states across the country," Grewal added. "We can't arrest our way out of the opioid epidemic, but we have learned that we can, in fact, save lives by making arrests, if we engage in this type of collaboration among law enforcement, government, and the addiction-service community."
"New Bridge Medical Center recognizes the critical role we play in combating the opioid crisis in our communities," said New Bridge Medical Center President and CEO Deborah Visconi. "Being both an expert in addiction medicine and strengthening that expertise with our partnership with Integrity House allows NBMC to be a resource for Bergen County and beyond. We are committed to providing medical detox and substance abuse treatment as part of the collaborative and innovative effort organized through 'Operation Helping Hand' and we are proud to continue this partnership that is saving lives."
"We are very proud of the Helping Hand model the Attorney General created when he was the Bergen County Prosecutor and that he has encouraged other counties to emulate," said Acting Bergen County Prosecutor Dennis Calo. "The opioid epidemic in our entire state continues to significantly impact our residents. However, along with our partners at Children's Aid and Family Services' Center for Alcohol and Drug Resources, the County Department of Health Services Office of Alcohol and Drug Dependency, New Bridge Medical Center, the Bergen County Sheriff's Office, and the many local law enforcement agencies who participate in Operation Helping Hand, we have demonstrated that creative solutions are available, and they work. This partnership is truly extraordinary, and we believe that it is saving lives."
"Morris County is proud to have joined this five-county collaboration whose chief aim is to connect those struggling with addiction to the resources they need, and we are excited by the positive results achieved," said Morris County Prosecutor Fredric M. Knapp. "In light of the staggering toll heroin and opioids have had on our state and nation, we as law enforcement leaders must utilize innovative methods to combat this epidemic. Operation Helping Hand is one such example we can use. Engaging peer recovery specialists in Morris County, as done in OHH, can hopefully be a key component in our efforts. Traditional drug interdiction alone is insufficient. Education, particularly for middle school children, and diversion of addicted offenders into drug court can be part of our battle. Law enforcement is at its best when partnering with the community, and Operation Helping Hand is a promising example of collaboration between law enforcement and the treatment community that saves lives."
"Operation Helping Hand was a tremendous success in Passaic County because of the efforts of the members of law enforcement and the dedicated recovery specialists who worked together to offer help to those suffering from addiction," said Passaic County Prosecutor Camelia M. Valdes. "I have seen firsthand the effects of heroin addiction not only to the users but also to those loved ones who witness the horrific consequences of addiction, and the communities that are directly impacted by open-air drug markets. For many of these users it was a wake-up call; that we in law enforcement will continue our efforts to stop the distribution of heroin, but at the same time offer you hope – hope that you address the addiction through treatment and support of family. Thankfully an overwhelming majority heeded that wake-up call. I hope that their path to a new life without addiction has begun through our efforts in 'Operation Helping Hand.'"
"The multi-county Helping Hand initiative demonstrates some of the best of New Jersey law enforcement," said Sussex County Prosecutor Francis A. Koch. "It demonstrates not only how we are able to combine resources and work together to help address the substance use disorder epidemic in New Jersey, it allows agencies to work side by side and gain experience and skills from each other. The Helping Hand initiative provides demonstrative proof that law enforcement wants to help and serve its community members by offering services to end the cycle of addiction. The success rate of individuals wanting to enter into treatment is nothing short of astounding. None of this could have been done without the cooperation across all of the involved agencies. It was an honor and privilege to work on such a worthwhile multi-county operation and Sussex County looks forward to doing additional operations in the future."
"The outcome of Operation Helping Hand in Union County far exceeded our most optimistic expectations, and we were heartened to know we managed to get so much help to so many people in such desperate need of it," said Acting Union County Prosecutor Michael A. Monahan. "This result shows what happens when extremely motivated professionals flawlessly execute a well-conceived plan. But more than that, I was struck by the limitless compassion our law enforcement and community partners displayed in dealing with people grappling with addiction."
The five counties participating in the program were divided into two sectors. The four northern counties of Bergen, Morris, Passaic and Sussex coordinated their operations with the source city for heroin being Paterson. Union County conducted separate operations with the source cities for heroin being Newark, Elizabeth, Plainfield and Linden. In each county, numerous law enforcement, government and addiction service agencies participated. They are listed below.
In addition, the operation yielded significant information and leads concerning the distribution of narcotics in the targeted areas, which will be used by law enforcement in furtherance of its continuing efforts to disrupt and dismantle individuals and organizations engaged in drug trafficking.
In advance of the operation, law enforcement and designated recovery specialist organizations in each county worked with treatment facilities and other addiction service agencies to arrange the availability of detox beds and other support services. In addition, county narcotics task forces arranged for additional officers and shifts from partnering law enforcement agencies for the planned days of the operation to conduct the sweeps of open-air drug markets to arrest drug users.
Once processed on a summons, users were offered an opportunity to speak to a recovery specialist – a recovering addict who has been clean and is trained to help users find treatment. If the user was persuaded to accept assistance, a trained clinician assessed him or her to determine the appropriate level of care and treatment needed. The clinicians, working closely with recovery specialists and staff from hospitals and treatment centers, then made specific arrangements for treatment. Law enforcement officers were responsible for transporting the users to treatment facilities. The Morris County Sheriff's Office deployed its Hope One van – a mobile unit staffed with a sheriff's officer, a recovery specialist, and a clinician, who bring recovery services into the field and provide access to treatment facilities.
The sense of urgency behind Operation Helping Hand and other Attorney General initiatives targeting the opioid epidemic is driven by the continued rise in opioid deaths in New Jersey in recent years. Attorney General Grewal today released new preliminary data on overdose deaths in the first six months of 2017. The data shows that there were 623 heroin deaths in New Jersey in the first six months of 2017, up from 594 heroin deaths in the first half of 2016, and 415 heroin deaths in the first half of 2015. That represents a 50 percent increase between 2015 and 2017. The rise in overdose deaths involving fentanyl was even more dramatic, with 668 fentanyl deaths in New Jersey in the first six months of 2017, nearly double the 337 fentanyl deaths recorded for the same period in 2016, and well over four times the 150 fentanyl deaths recorded in the first half of 2015. (Note: The heroin and fentanyl figures overlap because deaths involving a combination of heroin and fentanyl are counted in both totals.)
In February, Attorney General Grewal announced the creation of a new office dedicated to fighting the opioid epidemic. The Office of the New Jersey Coordinator for Addiction Responses and Enforcement Strategies ("NJ CARES") is responsible for overseeing addiction-fighting efforts across the Department of Law & Public Safety and creating partnerships with other agencies and groups similarly committed to implementing solutions to the opioid crisis and drug addiction. The NJ CARES website provides a real-time snapshot of the state's opioid crisis and breaks down how each county is being affected.
Attorney General Grewal thanked the following agencies that participated in the recent five-county Operation Helping Hand effort. The tremendous results of this operation were dependent on the outstanding collaboration among all of these agencies.
---
UNION COUNTY
Community Partners
Prevention Links
New Bridge Medical Center
County of Union
New Hope Integrated Behavioral Health
Turning Point
Serenity of Summit
Trinitas Hospital
Organization for Recovery
Overlook Hospital
Lennard Clinic
Law Enforcement Agencies
Union County Prosecutor's Office
Elizabeth Police Department
Springfield Police Department
Westfield Police Department
Berkeley Heights Police Department
Union County Police Department
Cranford Police Department
Fanwood Police Department
Plainfield Police Division
Linden Police Department
Roselle Park Police Department
Garwood Police Department
Rahway Police Department
Kenilworth Police Department
Clark Police Department
Mountainside Police Department
---
NORTHERN SECTOR: BERGEN, MORRIS, PASSAIC, SUSSEX COUNTIES
Community Partners
Children's Aid and Family Services, The Center for Alcohol and Drug Resources
Bergen County Department of Health Services, Office of Alcohol and Drug Dependency
Morris County Prevention is Key and its Center for Addiction Recovery, Education and Success (CARES)
Eva's Village, Inc.
Center for Prevention and Counseling, Newtown, N.J.
Morris County Sheriff's "Hope One" Mobile Recovery Access Vehicle
Mental Health Association of Essex and Morris Counties
New Bridge Medical Center
New Hope Foundation
Integrity House
High Focus Centers
Eva's Village Halfway Houses (Men's and Women's)
Ambrosia Treatment Center
Retreat at Lancaster
Discovery Institute
Turning Point
Serenity at Summit
St. Clare's Behavioral Health
Sunrise House, Lafayette, N.J.
Bergen County Law Enforcement Agencies
Bergen County Prosecutor's Office
Bergen County Sheriff's Office
Cliffside Park Police Department
Hackensack Police Department
Tenafly Police Department
East Rutherford Police Department
Saddle River Police Department
New Milford Police Department
Haworth Police Department
Westwood Police Department
Norwood Police Department
Fair Lawn Police Department
Lyndhurst Police Department
Oradell Police Department
Montvale Police Department
Mahwah Police Department
Upper Saddle River Police Department
Garfield Police Department
Glen Rock Police Department
Elmwood Park Police Department
Paramus Police Department
Englewood Police Department
Dumont Police Department
Morris County Law Enforcement Agencies
Morris County Prosecutor's Office
Morris County Sheriff's Office
Denville Police Department
Mount Olive Police Department
Dover Police Department
East Hanover Police Department
Hanover Police Department
Washington Township Police Department
Florham Park Police Department
Montville Police Department
Morris Township Police Department
Rockaway Township Police Department
Pequannock Township Police Department
Parsippany Police Department
Rockaway Borough Police Department
Passaic County Law Enforcement Agencies
Passaic County Prosecutor's Office
Passaic County Sheriff's Office
Bloomingdale Police Department
Clifton Police Department
Haledon Police Department
Hawthorne Police Department
Little Falls Police Department
North Haledon Police Department
Passaic Police Department
Paterson Police Department
Prospect Park Police Department
Ringwood Police Department
Totowa Police Department
Wanaque Police Department
Wayne Police Department
West Milford Police Department
Woodland Park Police Department
Sussex County Law Enforcement Agencies
Sussex County Prosecutor's Office
Sussex County Gangs, Guns and Narcotics Task Force
Vernon Township Police Department
Hopatcong Borough Police Department