Please select a year.
Sussex County Education Partnership Hosts Training Session on Mental Health for County Schools
Release Date: November 19, 2018
Over sixty school staff and service providers learned about mental health services for youth during the first training session hosted by the Sussex County Youth Services Commission's Education Partnership, in collaboration with the Human Services Advisory Council.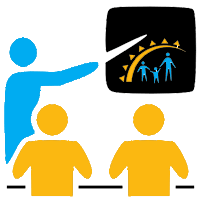 Ria Smith of the National Alliance on Mental Illness (NAMI) - Sussex Chapter presented the "Ending the Silence" program along with facts and statistics about youth and mental health conditions, early warning signs, and when, where, and how school staff can assist their students in seeking help. During the networking session, over twenty local community providers staffed resource tables and were available to answer questions and provide important materials to school staff for information and referral.
Access to adequate mental health care is often recognized in many communities through the State of New Jersey as a top need for both youth and adults. According to the National Alliance on Mental Illness (NAMI), 20% of youth ages 13-18 live with a mental health condition. Access to mental health care is especially recognized as a priority area for youth in Sussex County, partially due to the extremely limited availability of child psychiatrists in the county. Although limited, there are a variety of resources available for early intervention efforts in the area of mental health for youth as well as ongoing treatment and care.
Education Partnership Committee members spoke about the New Jersey Children's System of Care, McKinney Vento Law which assists homeless families, and the local and county services that are available to families. All participants were encouraged and invited to join the Sussex County Human Services Advisory Council and the Education Partnership which serves all Sussex County residents. The Education Partnership will host its next free training for school staff in Spring 2019.
The Sussex County Education Partnership Committee is comprised of various system partners representing numerous facets of the community; all of whom focus on serving children and families with special needs. Membership of this Committee includes representatives from each of the Child Behavioral Health system partners, County Office of Education, Community Child Behavioral Health providers, and School District and/or School Building Representatives, among others. The mission of the Sussex County Education Partnership is to develop, promote, and enhance collaborative efforts between schools, child behavioral health system of care partners, and the NJ Division of Child Protection and Permanency to improve the well-being of children in Sussex County, keeping them at home, in school, and out of trouble.
If you would like to obtain more information about mental health services for youth or find out how you can participate in the Sussex County Education Partnership, please call Kristen Turtur at 973-940-5200, ext. 1379.
---