Please select a year.
Help is Available for Medicare Part D Annual Open Enrollment
Release Date: September 24, 2020
The annual open enrollment period for Medicare Part D Prescription Drug Plans runs October 15 through December 7, 2020.

(Newton, NJ) The Sussex County Department of Health and Human Services, Division of Senior Services would like to remind individuals that the annual open enrollment period for Medicare Part D Prescription Drug Plans runs October 15 through December 7, 2020. The Division of Senior Services provides free one-on-one assistance to Medicare beneficiaries to re-evaluate their prescription drug coverage. This assistance is provided through the Sussex County State Health Insurance Assistance Program (SHIP). For most people with Medicare, this is the only opportunity to change, add or drop a Medicare Part D (prescription) plan. If a change is made during this time, it will become effective on January 1, 2021.
The Sussex County Division of Senior Services encourages all Medicare beneficiaries to review their current coverage to ensure they are accessing the best and most cost effective plan available. Each year cost and coverage adjustments are made to the prescription drug plans under Medicare Part D. Before taking any action, it is very important for someone with Medicare Part D coverage to read the "Annual Notice of Change" that all Medicare prescription drug plans must mail to their members by the 31st of October. The notice outlines any changes to the plan in terms of premiums, deductibles, co-payments and formulary (list of drugs the plan will cover) for 2021.
Many people with Medicare also have coverage from an employer/union plan that includes coverage for prescription drugs. The coverage may be as good as, or better than, the Medicare benefit. This is called "creditable coverage." People with creditable coverage do not need to enroll in a Medicare Part D plan. Every year, by the 15th of November, employer/union plan administrators must provide written notice to covered members whether or not their coverage is creditable. Questions about whether coverage is creditable should be directed to the specific employer/union plan.
To meet the demands of the open enrollment period during the current pandemic, Senior Services will be offering appointments virtually and by phone (accommodations can be made if necessary). Please call the Division of Senior Services at 973-579-0555, ext. 1277 to schedule an appointment or obtain further information.
"The State Health Insurance Assistance Program (SHIP) is a statewide program administered by the New Jersey Department of Human Services with financial assistance through a grant from the U.S. Administration for Community Living (ACL)."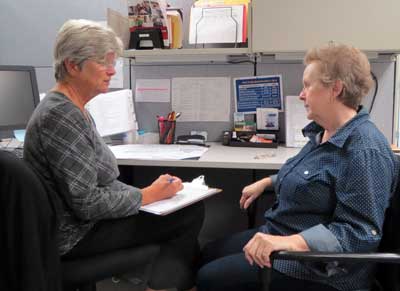 SHIP Counseling at Sussex County Division of Senior Services