Franklin Branch Library Touch a Truck Event a Big Success
Release Date: May 10, 2023
Contact: Kathleen Freisinger
Sussex County Main Library
973 948-3660 ext. 3401
kfreisinger@sussexcountylibrary.org
Franklin NJ – Beautiful weather and a variety of trucks were the main attractions at the Franklin Library's community Touch a Truck event, held May 6 in the parking lot across from the library at 103 Main Street in Franklin. Almost 200 attendees had the opportunity to get up close and personal with all types of vehicles including an ambulance, a fire truck and a big farm tractor to name just a few.
"These are always such fun events," stated Library Director Will Porter. "We hosted our very first Touch a Truck at the Main Library way back in 2010 and they've just grown from there. Our Franklin Branch has a little more of a space constraint, but the community makes it totally worth it."
The staff of the Franklin Branch thanks all the wonderful volunteers who made the day possible including the Franklin Volunteer Fire Department, The Wallkill Valley First Aid Squad, the Franklin Borough Police, and the New Jersey Forest Fire Service. Michael Clint, a resident of Franklin borough, was kind enough to bring a farm tractor as well, which was a big hit.
Franklin Branch staff member April Good noted, "It was a great day and the community came out in force to enjoy the beautiful weather and many expressed their appreciation. We are very thankful to the first responders who were able to attend."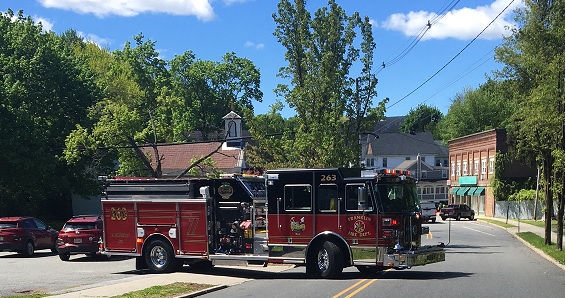 Photo caption: The Franklin Fire Department backs carefully into the lot in preparation for a Touch-A-Truck hosted by the Franklin Branch of the Sussex County Library System in Franklin, NJ, Saturday, May 6.