Please select a year.
Trinity Street Milling and Paving
Release Date: October 06, 2015
Trinity Street will have limited access on October 9 and October 12 for milling and paving.
Trinity Street Milling and Paving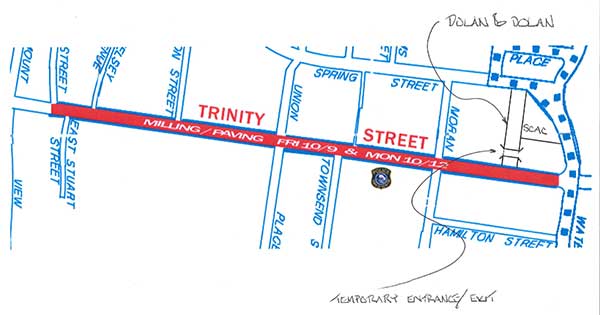 On Friday, October 9, 2015, the Town of Newton will periodically throughout the day (6 a.m. - 5 p.m.) shut down Trinity Street. to vehicular traffic for asphalt milling operations.
County employees and those with business at the Sussex County Administrative Center should plan to use Spring Street and Moran Street to access the Sussex County Administrative Center.
Access into the County Administrative Center and the Cochran House building will be from Moran Street through Newton's parking lot. Working with the law firm Dolan and Dolan, spaces will be left open between the county and Newton parking lots, delineated by traffic cones.
Weather permitting the paving will be completed on Monday, October 12, 2015 on the newly milled areas stretching from Route 206 to Stuart Street at the far end of Trinity Street. Sussex County offices are closed on October 12 for the Columbus Day holiday. Monday, (Columbus Day) the Contractor is scheduled to work through the day, government operations will not be affected. If not done on Monday, the paving will be done on Tuesday, October 13, 2015 with the likelihood of additional traffic disruption.
Due to the necessity of cooling the pavement after placement no vehicles will be able to move on Trinity Street on Monday for extended times.
County Employees: Since vehicles will be hampered trying to transit through Trinity Street all day Friday and Monday, if you need fuel from the Hampton Street facility it would be best if this were done before Friday. However, if you still need access to Hampton Street on either Friday or Monday please use Spring Street to Hampton Street to access the facility.
There will be signage on the corner of Trinity Street and Route 206 indicating the road closure for the general public.