Direct Observation Telephone Video System
Page Navigation

Close
Direct Observation Telephone Video System
Public Health Nurses Use Phone Video Station for Care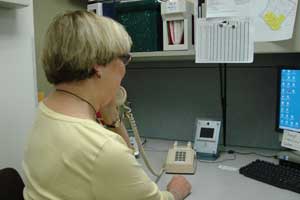 The Sussex County Department of Environmental and Public Health Services, Office of Public Health Nursing has implemented the use of a direct observation telephone video system on loan from the State Department of Health to ensure adequate treatment of tuberculosis.
Tuberculosis, or TB, is a serious disease caused by an organism called Mycobacterium tuberculosis. This bacterium generally attacks the lungs but can also attack other body organs such as the kidneys, spine, and brain. Tuberculosis can be fatal if not treated properly and promptly with medication. TB is spread through the air from person to person.
Medication is taken for approximately six to twelve months to treat active TB. Compliance in taking the prescribed medication every day is a big factor in successful treatment. All persons diagnosed with confirmed or suspected active tuberculosis are placed on DOT, Directly Observed Therapy, until their treatment is completed. In DOT, the nurse actually watches the patient swallow his/her prescribed TB medications. Direct observation reduces treatment failure, relapse and drug resistance. The guiding principle underlying the implementation of DOT is to protect the public from the spread of active TB disease and to treat persons with active or suspected TB in the least restrictive environment. DOT is done by the Sussex County Department of Environmental and Public Health Services, Office of Public Health Nursing.
Prior to using the telephone video system, public health nurses physically had to drive to the patients' homes every day to observe them taking the medications. Now, however, public health nurses have the ability to observe patient compliance via DOT from their desks in the PHN office. A monitor is placed in the patients' home along with a monitor set up in the nursing department and connected via the phone system. A telephone connection is established and a live video picture is seen by both the patient and nurse. From the office, the public health nurse supervises and observes the patient taking medications, then records her observations. The use of a telephone video system saves daily travel time for public health nurses while being both environmentally and fiscally prudent, especially in this time of expensive gasoline and tight budgets.