Dept of State Experiences Passport Processing Delays
Release Date: August 11, 2015
The National Passport Center (NPC) has reported that June and July have been extraordinarily busy this year.
Dept of State Experiences Passport Processing Delays
County Clerk Urges "Don't wait, apply now"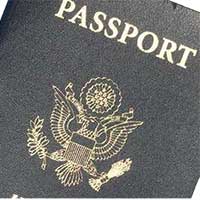 While February through April traditionally represents the busiest time of year for the processing of passport applications, the National Passport Center (NPC) has reported that June and July have been extraordinarily busy this year and that the higher volume, coupled with system issues, has resulted in some applications experiencing processing times beyond the normal 4 to 6-week timeframe for routine applications.
According to the NPC, as of July 8 there were 1,061,158 applications in process nationwide with 513,946 of those pending at the NPC. Since October 1, 2014, Passport Services received over ten million applications.
The Sussex County Clerk's Office, a long-standing passport acceptance agent for the federal government, is strongly advising its residents to plan ahead and apply early for travel outside the United States, including island cruise destinations, Mexico and Canada.
"While the standard turnaround time to process a passport application is six weeks, the NPC has advised that some applications accepted in June and July are not seeing passports delivered until after the standard turnaround," said County Clerk Jeff Parrott. "We urge residents without passports, who know they'll be traveling outside the U.S., to avoid possible delays and apply as early as possible," said Parrott.
Citizens who already applied for a passport using routine service, and who are not traveling within the next 10 days, can track their application on-line, beginning three weeks after application, by going to www.travel.state.gov

(processing times are updated daily). If a customer is traveling within the next 10 days and has not yet received their passport, they can call the National Passport Information Center at 1-877-487-2778 for assistance.
Residents can apply for a passport with the Sussex County Clerk's Office Monday through Friday from 8 a.m. to 3:30 p.m., and up until 5:30 p.m. the first Monday of each month (excluding holidays). Parties of three or more should allow more time. Photos can be taken onsite. Visit the Clerk's website for more information www.sussexcountyclerk.org.