Wishing Public Health Nurse Cheryl Buxton a Happy Retirement
Release Date: December 23, 2014
Cheryl's dedication to her chosen profession of nursing has been an asset to the community she has served, and as such, she will be missed when she retires.
Wishing Public Health Nurse Cheryl Buxton a Happy Retirement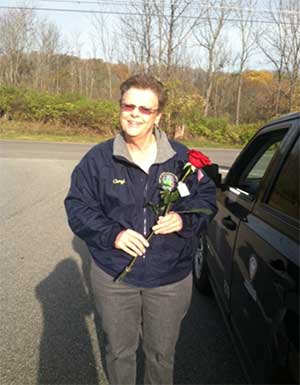 Having acquired a multitude of professional nursing skills over her career and being the kind and generous person that she is, Cheryl's nursing role has not followed a Monday through Friday, 8 a.m.-4:30 p.m. schedule. She is always willing to help a friend or colleague in need and has "nursed" many of us through life's stressful moments, surgeries, and illnesses (her chicken soup cures all ills). She not only practices as a nurse, but being a nurse is essential to who she is.
In addition, Cheryl is a terrific cook, grill-master, and wine connoisseur; enjoys opera and country music; adores her little dog Charley; and has just started attending Master Gardeners' classes. She will be missed when she retires from Public Health Nursing at the end of December. Her professional nursing skills have extended to residents of Sussex County from Montague to Hopatcong over the years, and her quick wit has helped to make a job into an enjoyable daily adventure!
Cheryl's career in Sussex County began in February 2004 under the nursing directorship of Peggy Dyer-Weissman, MSN APN. Cheryl's responsibilities included the required tasks of investigating communicable diseases, participating in the various public health clinics (well-baby clinic, women's and men's cancer screening clinics, and flu clinics), emergency preparedness and bioterrorism training, and many public outreach activities. Cheryl worked closely with the leaders of senior citizen groups in the county.
Public Health has evolved over the years as various emerging issues have become pertinent. When Ellen Phelps, MSN, APN, became Director of Public Health Nursing, the agency's focus changed to emphasize public education relative to issues currently affecting residents of Sussex County. Cheryl developed educational programs aimed at reaching all age groups of county residents. She was influential in the success of the Take It To The Streets program, a public education program wherein nurses meet with people where they conduct their lives during the day…grocery stores, big box stores, local businesses, etc…to provide education about timely topics.
Recognizing that undiagnosed hypertension (high blood pressure) in young and middle aged adults is a problem in our county with long-term public health effects, Cheryl conducted many Hypertension Case Finding Clinics at venues where young and middle-aged people work and shop during the day hours. As a result, young people who had undiagnosed hypertension were educated and referred to their private medical providers for medical management. Programs like this that Cheryl brought to the community have the potential not only to help people live healthier lives, but save many dollars in medical care throughout the lifespan.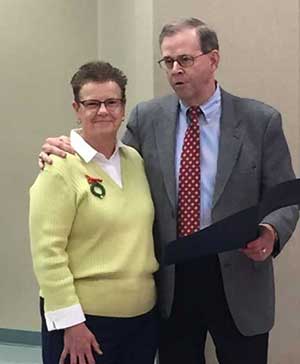 Cheryl has been very actively involved with partner service agencies as a valuable representative of Public Health Nursing. She has been a member of the
Sussex County Council of Service Agencies
for much of her career with Public Health Nursing. She not only provides other agencies with information about health related services but, in turn, shares valuable resources with her peers at Public Health Nursing. Cheryl was recently honored with the Council of Service Agencies'
Distinguished Service Award
.
Cheryl also has been a very active participant at the Center for Prevention and Counseling (CFPC). She has served as a nursing resource for the Center, participated on CFPC planning committees, and has participated each year in the "Medicine Take Back Day", where residents are encouraged to dispose of unwanted medications at various locations.
In addition, Cheryl has been a member of the Sussex Cancer Coalition, the Sussex-Warren Chronic Disease Coalition, and the Breast Cancer Workgroup. She has participated each year in the cancer fundraiser, "Relay For Life" as a Cancer Coalition team member.
The Sussex County Office of Public Health Nursing has a large flu clinic program for the residents of Sussex County each fall. Cheryl has been the nurse in charge of planning every aspect of the program from locations, supplies, and staffing needs. This is a large undertaking, but the end result is that several thousand county residents enter flu season with their immunizations to protect them from disease.
Having been extensively trained in Emergency Preparedness and Bioterrorism since her employment began at Public Health Nursing, Cheryl has been instrumental in the Health Department's ability to respond to medical emergencies as they might arise. Several years ago when the H1N1 flu threatened to sicken many residents, Cheryl participated in the special H1N1 immunization clinics that were held at Sussex County Community College where thousands of county residents were vaccinated. As a professional nurse, Cheryl has been an active member of the Greater Passaic Valley Public Health Nurses' Association and currently serves as its Treasurer. This organization consists of members primarily from Sussex, Morris, and Passaic counties and exists as a venue for public health nurses to discuss current trends and share resources and ideas.
Cheryl Buxton has been an asset to both Sussex County Public Health Nursing and to the residents of the county she has served. Her extensive nursing background including being nursing supervisor in Cardiac Care, organizational skills, high nursing practice standards, self-motivation, intelligence, and humor is complemented by her compassion for, patience with, and understanding of every Sussex County resident she has touched, from infants through elders. Cheryl's dedication to her chosen profession of nursing has been an asset to the community she has served, and as such, she will be missed when she retires.