SCMUA Jan 2011 Bulletin on Electronic Waste Management in Sussex County
Release Date: December 23, 2010
The New Jersey Department of Environmental Protection (NJDEP) has enacted new regulations under The New Jersey Electronic Waste Management Act which bans land filling of certain electronics as solid waste.
As part of ongoing efforts to keep residents, businesses and officials up-to-date on recycling and solid waste information in Sussex County:
SCMUA E-Bulletin No. 2010-03 provides information for
E-Waste Management in Sussex County
effective January 1, 2011
Please feel free to post & share this information and the linked pamphlet with other Sussex County residents, businesses and civic groups.
effective January 1, 2011
, which bans land filling of
certain
electronics as solid waste. These electronic items called "Covered Electronics", include televisions, desktop or personal computers, monitors and portable/laptop computers must be recycled. All other electronics are considered "Non-Covered Electronics", and are not required to be diverted for recycling.
The Sussex County Municipal Utilities Authority (SCMUA) will continue to recycle all types (both "Covered" and "Non-Covered") of electronics at the Resident's Convenience Center. Staff will segregate the materials at the Bagged Garbage Area and the bulky waste disposal area as we have done over the past few years. Additionally, the SCMUA will sponsor two E-Waste Collection Events which will be held in the Spring & Fall of 2011 - dates will be posted @ www.scmua.org.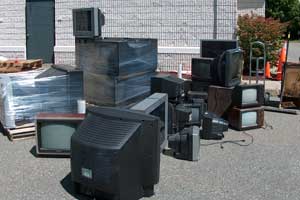 What is new, is that Manufacturers and Retail establishments that sell "Covered Electronics" are now required to develop E-Waste Management Programs for consumers to return the "Covered Electronics" to them. Please check directly with these businesses for their individual collection/recycling plans.
Please refer to the pamphlet or www.scmua.org for more information about the new NJDEP E-Waste Management regulations and sorting procedures.
Municipalities are encouraged to share this information with all Sussex County residents and businesses.