Sussex County MY COUNTY Poster Contest - Winners Announced
Release Date: April 24, 2014
The results of the 2014 My County poster contest were announced April 24.
Sussex County MY COUNTY Poster Contest
Winners Announced
The results of the 2014 My County poster contest were announced April 24, with first place awarded to Shannon Blide of Stillwater School, second place to Rose Steinburg of Merriam Avenue School In Newton, and third place to Ryan Ayoso of Merriam Avenue School.
Judges awards were given to Alisha Anjum, Zoe Kaczerski, Brian Lowenfeld and Luca Carnenolla, all of Hardyston Township Elementary School. Heritage awards were issued to Cody Lent, Ivi Torres and Selena Urbina, all of Merriam Avenue School.
Fourth-graders countywide were invited to participate in the poster contest. Fourteen schools participated, and 328 posters were submitted for judging. The posters were judged by County Clerk Jeff Parrott, Surrogate Gary Chiusano, and Hillary Manser, administrative assistant to the Sheriff.
Fourth-graders from all over the state, who generally study the State of New Jersey as part of their curriculum, are invited each year in April (County Government Month) to create posters that depict the special and unique qualities of their respective county and how those qualities relate to the services provided by county government.
The first-place winner received a Kindle Fire HD tablet. Second- and third-place winners received gifts cards of $50 and $25, respectively. The trio, as well as the award winners, receive free admission to the New Jersey State Fair, where their posters will be on display.
"We're thrilled by the talent of these fourth-graders," Parrott said. "The creativity that they demonstrate makes us all very proud. It's why we look forward to this contest each year."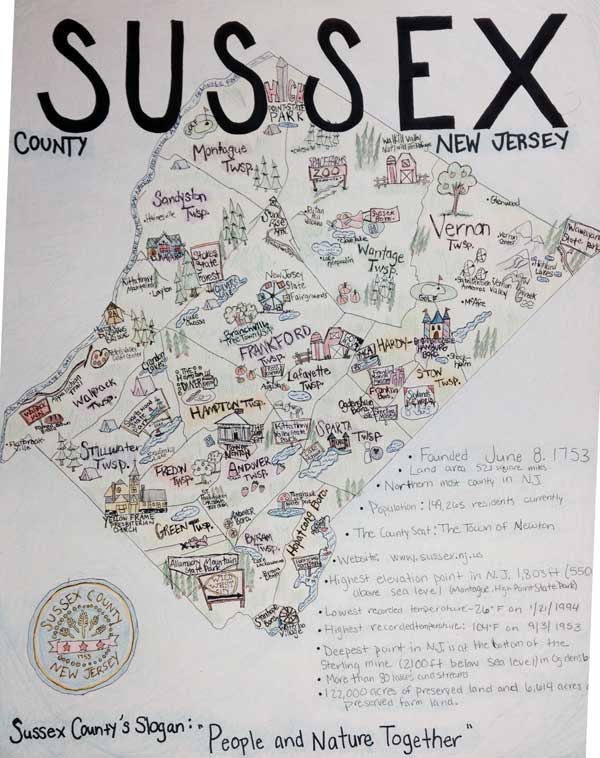 First place was awarded to Shannon Blide of Stillwater School