High Point Students Join the Battle Against Hunger
Release Date: December 16, 2009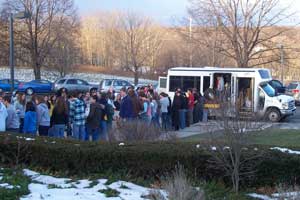 High Point Students Join the Battle Against Hunger 
Students at High Point Regional High School have joined the battle against hunger in Sussex County, becoming the latest "Champions for Charity."   On December 16, 2009, they held a food drive to benefit the food pantry at the Sussex County Division of Social Services, where the demand for food has grown faster than the agency's ability to meet the need.  Each student was encouraged to provide non-perishable food items to help their hungry neighbors around the County.
New Jersey State Senator Steven Oroho, Sussex County Freeholder Deputy Director Jeffrey Parrott and Freeholder Harold Wirths were on hand to assist with the food collection and congratulate students and members of the High Point Student Council for their fine efforts.  The Student Council took the lead to organize this effort which culminated in the collection of over 5,650 pounds of food by the students attending High Point Regional High School.   Student Council President Kayeleigh Mallon and Vice President Lauren Heller joined the student brigade to form a path of hope and good will from the high school to residents in need. 
Does hunger exist in Sussex County?  Yes, unfortunately, it does and with the unemployment rates continuing to hit double digits, many Sussex County residents have to choose between housing, utilities and food.  When they do not know where else to turn, they turn to Social Services.  County residents have been extraordinarily generous with food donations over the last few weeks, but the need continues to grow.
That is why Deputy Director Parrott has worked to expand the basic concept of a food drive into a synchronized system in which local school districts would collect food on a permanent rotational monthly basis.  Deputy Director Parrott said, "We are taking an approach of people helping people in a very difficult economy." 
Pope John XXIII Regional High School was the first to participate in "Champions for Charity" on the 3rd of November.  High Point Regional High School is the second of ten high schools participating in this project, which is designed to help maintain food supplies over the course of the year and not just at holiday time, when both donations and demand are at their highest.
If anyone is in need of food for themselves, their family or their pets, they can stop by the Division of Social Services, 83 Spring Street, Suite 203, Newton, on Monday through Friday, between 8:30 a.m. and 4:30 p.m.  No appointments are necessary.