Library News and Events
Release Date: January 22, 2019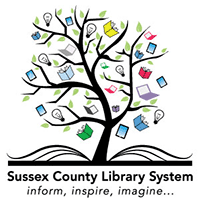 Sussex County Library System Winter Reading Raffle, February 1-28
Take A Chance and Win!
Newton, NJ – From February 1-28 adults ages 18+ can earn one raffle ticket for each book read or listened to during the Sussex County Library System's "Blind Date with a Book" Winter Reading Raffle. One lucky winner at each Branch will receive a $50 Amazon gift card.
February will be full of surprises as staff wrap and place books at each location for patrons to check out on a blind date. "No matter what, you're a winner!" exclaimed Adult Services Librarian Louisa Bann. "Love the book? You're an instant winner because you've just read a wonderful book. Hate the book? You can fill out a raffle ticket anyway. And check out another book! No guilt or lawyer fees involved."
Entries are not restricted to the "blind date" books, one raffle ticket may be entered for each book read during the contest period, February 1-28. Participants must be Sussex County Library cardholders. All raffle tickets must be turned in by February 28. Winners will be announced in early March.
---
Sussex County Library System Adds Telephone & On-Line Chat Services
Newton, NJ - The Sussex County Library System is pleased to announce a new call and on-line chat service that greatly expands the hours live help is available. Monday-Friday from 8:00 a.m.-11:00 p.m., Saturdays from 9:00 a.m.-9:00 p.m., and Sundays from 12:00-9:00 p.m., live help is just a call or click away.
"Many library resources are already available 24/7 through our website, sussexcountylibrary.org," stated Library Director Will Porter. "But the new Live Chat button allows patrons to ask for help when things get a little bit complicated. If you accidentally put a book on hold at the wrong branch, Live Chat can fix that for you. Before, having trouble downloading an eBook would have meant waiting until the next business day to call us. Now when library users need to reach out for help, a live operator will be available to help walk them through it even when our buildings are closed for the day."
"The service is available by calling any Sussex County Library System location Monday-Friday between 8:00 a.m. and 11:00 p.m., between 9:00 a.m. and 9:00 p.m. on Saturdays, or between noon and 9:00 p.m. Sundays," Porter continued. "The Live Chat feature is available on sussexcountylibrary.org the same times. We're really excited that residents of all ages can now call or chat for help with renewals, reference questions, or homework help, even late or on Sundays."
In addition to extended hours for live help, the Sussex County Library System is also expanding building hours at three locations. Beginning November 3, the Dennis Branch, 101 Main Street in Newton; Franklin Branch, 103 Main Street in Franklin; and Louise Childs Branch, 21 Sparta Road, Stanhope, will all be open from 9:00 a.m.-5:00 p.m. on Saturdays.