June Primary Election
Release Date: February 20, 2015
Locally, the June 2nd primaries will see Sussex County voters weighing in on their choices for NJ General Assembly and two freeholder seats, as well as several local municipal seats.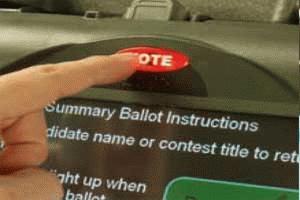 June Primary Election
There are two political parties currently recognized in the State of New Jersey that hold primary elections: the Democratic and Republican parties. These partisan elections are used to select candidates to run in the November General Election. In New Jersey these primaries are closed, meaning that in order to be eligible to vote in a primary, voters must have declared an affiliation with one of the two parties.
If you're new to the process, here are some basic guidelines surrounding party affiliation:
If "John Doe" declared one Party when he registered, but now wants to affiliate with the other party, he has to officially change his political affiliation by completing either a Party Declaration Form or by updating his status via a Voter Registration Form. The change request must be received by the County Board of Election

at least 55 days prior

to Primary Election Day.
If "Jane Doe" registered as unaffiliated but now wants to vote in a primary, she has to declare the party of her choice before she can cast her vote. The easiest way to do this is...

on Election Day, by showing up at her regular polling place and simply voting in the primary of her choice; in doing so, she effectively affiliates with that party from that day forward, or until she chooses to change her designation (and there is no limit on the number of times she can switch her affiliation, including a return to unaffiliated status).
Of course, in order to be able to affiliate at the polls, Jane Doe would have to be registered to vote. People new to the county, or people registering for the first time, are reminded that the deadline to register to vote in the June primary is May 12. Completed registration forms can be mailed, but must be received by the County Board of Election by May 12; the board also is open extended hours on May 12 for late evening registration. Citizens must be 18 years of age by the date of the election to be eligible to register to vote.
Voters are reminded that early voting is available by mail for every election. Completed applications should be mailed to the County Clerk, who confirms voter status and issues Mail-In Ballots (MIB) to eligible voters. The deadline to apply by mail for an MIB is May 26. After that date, voters may apply for an MIB in person at the County Clerk's Office up to 3 p.m. the Monday before Election Day. (Check the county clerk's website for extended voting hours the weekend before major elections.)
Locally, the June 2nd primaries will see Sussex County voters weighing in on their choices for NJ General Assembly and two freeholder seats, as well as several local municipal seats (list of open seats by municipality). The petition filing deadline for all Primary candidates is before 4 p.m. March 30th. Candidates running for municipal office file their petitions with their municipal clerk, while candidates running for county office file with the county clerk. Drawing for ballot position will be conducted by the respective clerks at 3 p.m. on April 10. Every candidate running for office (with the exception of party county committee candidates, discussed below) is responsible for filing campaign election reports with the NJ Election Law Enforcement Commission (ELEC). These reports detail the contributions and expenditures of candidates and are available for public viewing on ELEC's website. Candidates who fail to file timely reports are subject to fines.
In addition to voting for local state, county, and municipal offices, there will be races for both male and female Democratic County Committee seats. (Republican County Committee members were elected in June 2014; the two party county committees alternate election years.) County committee members are elected by their party's voters to represent their interests in various partisan matters, not the least of which is voting to select nominees to fill vacancies that occur in municipal governing bodies. Persons interested in serving on a municipal county committee can contact their political party's chair for more information (Democratic: info@sussexdems.org; Republican ailishsussexnjgop@gmail.com).