Alcohol-Free Event at Skylands Park Was a Success
Release Date: September 03, 2010
Those in attendance experienced a fun afternoon at the Skylands Park, home of the Sussex Skyhawks Baseball Team
Alcohol-Free Event at Skylands Park Was a Success
In spite of the intermittent rain showers on Sunday, the 15th of August, those in attendance experienced a fun afternoon at the Skylands Park, home of the Sussex Skyhawks Baseball Team playing the Québec Capitales from Canada.
Free tickets were provided to all Sussex County families participating in an alcohol free day, sponsored by the Sussex County Municipal Alliances and funded by the Governor's Council on Alcoholism and Drug Abuse (GCADA).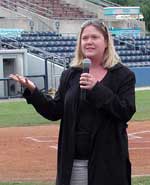 Lorraine Hentz, Director of the Sussex County Division of Community and Youth Services welcomed more than 1500 attendees to the 1st annual baseball game promoting family togetherness and providing an opportunity to talk to your kids about drugs and alcohol to combat substance abuse. After the introductions, Canada's National Anthem was sung by Dory Rachel, and the United States National Anthem was sung by Kristen Woodbury.
Stephen Gruchacz, Administrator of the Sussex County Department of Human Services, conveys his appreciation with a sincere thank you to the following participants: Becky Carlson from the Center for Prevention and Counseling (CFPC), the Sussex County Department of Health, the Sheriffs' Department, Green Dot, Sussex Wantage Municipal Alliance, County Alliance Steering Subcommittee (CASS) and the Local Advisory Council of Alcohol and Drug Abuse (LACADA). Also to the Skyhawks Baseball Team—with special thanks to General Manager Ben Wittkowski, who was most invaluable in making this day possible.
Through the efforts of many individuals and organizations in our County, this "alcohol prevention and abuse awareness event" was very successful in laying the foundation for future awareness programs on the most serious societal challenges of alcohol abuse preventions.