Sparta Realignment Project Completed
Release Date: June 10, 2009
This much needed project, is a good example of public transportation funding, being put to good use for the public benefit, right here in Sussex County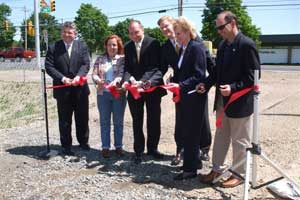 (left to right) State Senator Steven V. Oroho; Assemblywoman Alison Littell McHose; Sparta Township Mayor Brian Brady; NJ Department of Transportion (DOT) Commissioner Stephen Dilts; Freeholder and North Jersey Transportation Planning Authority (NJTPA) Chairman Susan Zellman and Freeholder Director Glen Vetrano
A very important highway improvement project was recently completed in Sussex County. This project was the realignment of the Route 15 - White Lake Road and Wilson Drive intersection in Sparta Township. This 2.2 million dollar project improved and realigned the offset intersection at Route 15 and White Lake Road and Route 15 and Wilson Drive to form a single, signalized intersection. This location has long been a problem for the many travelers who use this corridor everyday and was identified as one of the most congested intersections in the County in the recently completed County 10 Year Mobility Study.
This project, which was "Fast Tracked" by the NJDOT, was an excellent example of how a project can move through the transportation planning process, design and finally construction, in a timely manner, through the cooperative efforts and coordination of State, regional, County and local officials.
This project will be a significant benefit, for many years to come, for the region and for the many local and out of state travelers, who use the Route 15 corridor everyday. It will reduce congestion, as well as improving both traffic flow and safety. The project was officially completed and dedicated at a ribbon-cutting ceremony on June 1, 2009 at the project site in Sparta. In attendance at the ceremony was NJDOT Commissioner Stephen Dilts, State Senator Steven Oroho, Assemblywoman Alison McHose, Freeholder Director Glen Vetrano, and Freeholder and North Jersey Transportation Planning Authority (NJTPA) Chairman Susan Zellman and Sparta Mayor Brian Brady. In addition, a number of State, County and local officials attended, as well as representatives from the NJTPA. This much needed project, is a good example of public transportation funding, being put to good use for the public benefit, right here in Sussex County.
Submitted by:
Tom Drabic, Division of Planning