Sussex County Libraries Rock! Summer Programs at the Libraries
Release Date: July 02, 2018
Sussex County Libraries will rock out this summer with programs and prizes for all ages.
Sussex County Libraries Rock!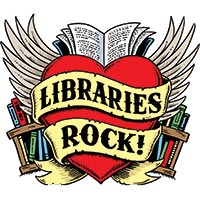 Lunch & Learn Opportunity at Sussex County Main Library
Frankford - The Sussex County Main Library in Frankford invites local business owners to a free Lunch & Learn session with ReferenceUSA on Thursday, July 12 from 12:00-1:30 p.m.
ReferenceUSA is a user-friendly database that provides fast and easy access to contact and demographic information on more than 45 million US businesses and 270 million US consumers. Information can be searched and sorted to conduct market research, find sales leads, build a business plan and more. Access is available free of charge, 24 hours a day, to all Sussex County Library cardholders.
If you're a local business owner looking to expand, register by July 9 through the Events Calendar link at sussexcountylibrary.org to attend this free lunch, and learn more about using ReferenceUSA to help your business grow. Library Card and Digital Pass applications are available through sussexcountylibrary.org or by visiting any Sussex County Library location.
---
Summer Story Times Rock! @ Your Local Library
Newton NJ – Children as young as six months old through those entering Kindergarten are invited to Read & Play story times being held at each of the six Sussex County Library locations July 9-August 3. Read & Plays combine stories, songs, simple activities and free play in a friendly and fun environment that allows the children to choose tasks appropriate for their age.
For children entering grades one through three, Lunch Bunch is a chance to listen to stories while eating lunch, followed by games and activities. The stories and crafts are more sophisticated than the Read & Plays, and encourage children to keep up their reading and fine motor skills over the summer break.
S.T.E.A.M. programs for older children will feature different projects every week that pull from the Science, Technology, Engineering, Arts and Math curriculum, with fun experiments appropriate for children through fifth grade.
For dates, times and details on these weekly programs stop by your local Sussex County Library Branch or go to the Events Calendar link at sussexcountylibrary.org.
---
Libraries Rock! with Trolls Parties this Summer
Newton NJ – Colorful, optimistic, music-loving Trolls are the inspiration behind the Trolls Parties being held at each branch of the Sussex County Library System the week of June 25. Children ages 2-10 are invited to dance, make their own bubble wands and create their own photo ops with Trolls props during this musical celebration.
Libraries Rock! with Trolls Parties at the following locations and times: Main Library, 125 Morris Turnpike in Frankford, June 25 at noon; Dennis Branch, 101 Main Street in Newton, June 25 at 6:30 p.m.; Dorothy Henry Branch, 66 Route 94 in Vernon, June 26 at 4:30 p.m.; Sussex-Wantage Branch, 66 Route 639 in Wantage, June 27 at 6:30 p.m.; Franklin Branch, 103 Main Street in Franklin, June 28 at 1:00 p.m.; and Louise Childs Branch, 21 Sparta Road in Hopatcong, June 28 at 3:30 p.m.
Space is limited to 15 children at each location. Register online through the Events Calendar link at sussexcountylibrary.org or by calling or visiting your local branch.
---
Summer Reading Registration Begins June 18
Sussex County Libraries will rock out this summer with programs and prizes for all ages. Registration begins June 18 for the Libraries Rock! Summer Reading program. Once registered, every book read or listened to earns another entry for a wide pool of prizes ranging from toys for the youngest readers, to a 2-in-1 tablet for adults.
Kickoff Celebrations June 22 and 23
On Friday, June 22, children of all ages are invited to get up close and personal with a wide variety of scaly and furry friends as Eyes of the Wild makes an appearance at the following locations: the Dorothy Henry Branch at 10 a.m., Franklin Branch at 1 p.m., and the Dennis Branch at 3 p.m.
Saturday, June 23, Jay Jay the Bubble Guy brings his special blend of bubbles, magic and fun to the Louise Childs Branch at 10 a.m., the Sussex-Wantage Branch at 1 p.m., and Main Library at 3 p.m.
Programs for Every Age and Interest
Opening programs are just the beginning. Throughout July there will be weekly Read & Play programs for children ages 6 months-entering Kindergarten, and Lunch Bunch get togethers for children entering grades 1-3. A variety of S.T.E.A.M. (science, technology, engineering, arts and math) programs are being planned for older children (entering grades 1-5).

Teens and adults will have more programs than ever from which to choose. Fishing techniques, beer brewing and painting without a brush are just a few of the many ways Libraries Rock! this summer.
The Importance of Summer Reading
The value of Summer Reading goes beyond programs and prizes. Studies have shown that children who don't read over the summer experience "summer learning loss," which is cumulative and can lead to significant deficits by the end of grade 6. Conversely 8 out of 10 studies indicate the recreational readers outperform their peers.
Summer Reading Wraps Up August 11
Saturday, August 11 will be the last day to enter raffle tickets for prizes. Winners will be notified the following week.