2010 Stuff the Bus a Success
Release Date: December 10, 2010
The third WNNJ and WSUS Stuff the Bus event collected over 20,000 pounds of food, over $2000 in cash, and 100 turkeys.
Over 20,000 pounds of food was collected at eight Quick Chek locations throughout Sussex County on the 22nd and 23rd of November during the Stuff the Bus campaign to benefit the Sussex County Department of Human Services, Division of Social Services food pantry.   WNNJ's Rob Moorhead, host of the Moorhead in the Morning show, spearheaded the Stuff the Bus food drive for the third year in a row.  Rob was joined this year by 103.7 WNNJ personality Kris Bruno and 102.3 WSUS personalities Steve Andrews and Mike Anthony.  New Jersey Assemblyman Gary Chiusano, Sussex County Freeholder Director Parrott, Deputy Director Crabb, and Freeholders Space, Zellman and Zeoli attended the event to greet donors and accept donations.  Division of Social Services Director Carol Novrit was also on hand both days to assist with the event.  During the two day event, listeners filled buses provided by Sussex County Skylands Ride (formerly Sussex County Transit) with their donations.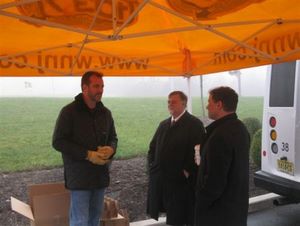 Stuff the Bus raised a grand total of 20,023 pounds of food, 100 turkeys and $2,210.82 in cash donations.  The Homestead Nursing Home, Bentley Assisted Living and various Sussex County schools and organizations also collected and delivered food donations to the event.   As people from the very young to the elderly poured in from every direction to make donations, it became abundantly clear that Sussex County residents truly care about one another.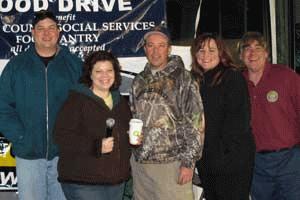 The County of Sussex, Department of Human Services, Division of Social Services would like to send a warm thank you to Rob Moorhead, Kris Bruno, Steve Andrews, Mike Anthony, WNNJ, WSUS, and the countless volunteers and residents who made this food drive such a success.
If anyone is in need of food for themselves or their family, they can stop by the Division of Social Services, located at 83 Spring Street, Newton, NJ, from 8:30 a.m. to 4:30 p.m., Monday through Friday.  Food donations or pet food are accepted during these hours or special arrangements can be made for after-hours donations by calling 973-383-3600.