Please select a year.
Sussex County Mental Health Board Addresses Community Mental Health Needs
Release Date: January 22, 2013
More than 60 community leaders participated in a Mental Health Forum held on Thursday, January 17, 2013, sponsored by the Sussex County Mental Health Board.
Sussex County Mental Health Board Addresses
Community Mental Health Needs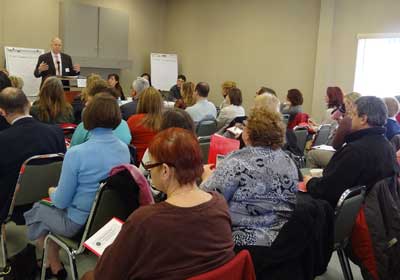 More than 60 community leaders participated in a Mental Health Forum held on Thursday, January 17, 2013, sponsored by the Sussex County Mental Health Board. The purpose of the Forum was to bring community stakeholders together to share ideas for improving access to mental health services in Sussex County. Representatives of mental health service provider groups and agencies, consumer groups, educators, the faith community, law enforcement, primary care physicians and numerous county human service organizations were invited to the event, which was held at Tri-Co's Community Room, on Route 206, in Augusta, NJ.
The Mental Health Board is in the process of updating the Sussex County Mental Health Plan. The Board organized the event as a way to gather input that could be reflected in the Plan. The Plan will outline program and funding priorities for integrated mental health services. "This forum will serve to energize our efforts in revising the Plan and will allow us to strengthen our existing partnerships as well as create new ones," said Board Chairwoman Lauren Hirtes.
"The 2012 Sussex County Human Services Needs Assessment identified mental health services as one of the top three priority areas for expanded investment," said Stephen Gruchacz, Administrator of the Sussex County Department of Human Services. "The assessment showed that there is a clear need in Sussex County.' Gruchacz explained that updating the Mental Health Plan can help to integrate a complex array of services. He added that, "There is no statin for schizophrenia," referring to medications that can cure physical illnesses. Mental illness cannot be cured but can be treated and managed with positive results. Newly elected Freeholder Gail Phoebus addressed the group and stated that one of her goals is to bring more mental health services to Sussex County.
"Statewide, an estimated 259,000 adults and 93,000 children live with mental illness," said Mental Health Board Vice-Chair Dr. Debra Koss, Child and Adolescent Psychiatrist, who served as moderator for the Forum. Koss asked the audience to share thoughts on how to address the Board's four planning priorities: Outreach, to provide information to the community; Education, to raise awareness and reduce stigma; Collaboration, to share resources effectively; and Advocacy, for improved policies and programs. "Our numbers may be small but our needs are great," Koss said about Sussex County.
Several Forum participants responded with suggestions for more outreach to schools, citing the importance of early intervention for better success in treatment and to combat stigma that causes many parents to fear having their child labeled as having a mental illness. There were several others who commented that parents also need help learning to navigate a complex mental health system.
A physician, who was among the 66 participants, pointed out that nationwide the health care industry treats mental health differently than physical health. As an example, he explained that it is easy for a primary care physician to line up experts to help an asthma patient, but not so for a patient suffering from depression or anxiety, who might have fewer service providers covered by their insurance. Koss responded by referencing a model for physician collaboration on mental health care being piloted in Essex County.
A point of consensus among the participants was that educating the community at large can raise awareness of signs and symptoms of mental illness, as well as combat the stigma that often holds people back from seeking treatment. "Mental health service providers need to develop a relationship with the natural community leaders so that they can be our eyes and ears," said Roger Cherney, Manager of the Center for Mental Health, at Newton Medical Center. "We should reach out to temples and churches, local schools, primary care physician offices and other natural settings where people go for help….there are many potential engines for change," he said.
Representatives from organizations, including the Sussex County Affiliate of the National Alliance on Mental Illness (NAMI) and the Family Support Organization (FSO) Morris/Sussex Division, offered to provide speakers for schools, churches, and community groups. The Sussex County Education Partnership was also noted as a resource to come to schools and agencies to provide current, ongoing training and education on free and voluntary services available through the Children's System of Care for children and youth experiencing behavioral changes.
Participants exchanged information on various resources such as www.MorrisSussexResourceNet.org, which provides comprehensive information about behavioral health services for children, teens and adults, and 2-1-1, a statewide resource call center. A list of numerous county mental health resources was included in a packet provided by the Mental Health Board to all those who attended Thursday's Forum.
Anyone interested in more information can contact the Sussex County Mental Health Board, care of Christine Florio, Mental Health Administrator, Sussex County Division of Community and Youth Services, One Spring Street, Newton, NJ 07860, at (973) 948-6000 ext. 1381, or cflorio@sussex.nj.us.