Please select a year.
Home Detention Program Has 86% Success Rate in Its First Year
Release Date: February 23, 2011
It's the mission of the Home Detention Program to provide intense supervision, electronic monitoring, supervised community service, and case management to court involved youth.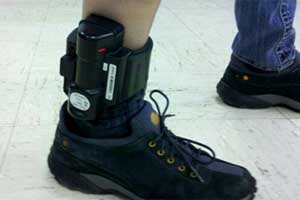 Home Detention Program Has 86% Success Rate in Its First Year
[Newton, NJ] It is just over a year since the closing of the Sussex County Juvenile Detention Center and the inception of the Sussex County Home Detention Program (HDP), which resulted in the County saving over $800,000.00 in the 2010 budget. Following national trends to move juvenile programs into the community did not only prove cost effective but also showed positive outcomes for our youth. The program has served seventy youths since December 15, 2009. Of those seventy served, sixty were successfully supervised within their home, while being connected to community based services in lieu of incarceration in a secured detention center.
The HDP is coordinated through the Department of Human Services, Division of Community and Youth Services. The program consists of six detention officers, one supervising detention officer, and a program director. All program admissions are authorized by the Sussex County Family Court Judge.
The youth and his or her family must agree to the program's rules and expectations before being placed in the program.
It's the mission of the Home Detention Program to provide intense supervision, electronic monitoring, supervised community service, and case management to court involved youth. At the same time, maintaining the youth with his/her family within the community where he/she can continue school involvement/enrollment, seek or maintain employment, and have access to local social services. Freeholder Director Richard Zeoli stated, "This monitoring program is proving to be a tremendous success for both the county taxpayers and the youth it services. Achieving a savings of $800,000 in the county budget is remarkable, and we can now see a literal transformation of a youth who otherwise would have been sent away to juvenile detention. By allowing the youth to continue in school and employment, they are afforded an opportunity to change the direction of their life instead of becoming a burden on society."
The program staff is able to monitor, track, and know the whereabouts of participating youth twenty-four hours a day, seven days a week, through the use of an electronic monitoring device equipped with a Global Positioning System (GPS). Through daily face to face supervision at home or in the community, the program staff assist the participating youth with daily life skills training, good decision making skills, and provides suggestions for effective use of their free time. By administering random urine screens and assisting with transportation, the staff helps the youth remain compliant with court ordered mandates such as, probation reporting, treatment and school attendance. "It's a win, win, win situation, saving taxpayer dollars, keeping the participants motivated and the families involved," said Susan Zellman, Freeholder Deputy Director.
Program staff connects and supervises participating youth with community services. To date, 534 green dot bracelets were made by the participants in support of D.A.S.I.'s "Strength Without Violence" a prevention program to raise community awareness of violence and abuse. Further, participating youth help in the separation, organization, and the delivery of food collected as part of the Sussex County's Stuff the Bus program.
The program has received positive feedback among the families it has served. A parent of a 16 year old male stated, "They were positive role models, demonstrated a good attitude, spoke with respect but authority, and showed interest in my child as a person." A 16 year old male is quoted as saying, "The Home Detention Program has impacted my life by teaching me that you need to set goals for yourself and stick to them. I never used to set goals for myself because I did not think they were obtainable. Since I was put in the HDP, I set short term goals; which were to go back to school and get a job. The HDP helped me get back in school and stay in school by showing me how important it is to get a high school diploma now rather then drop out and do it later. The HDP has taken me out to get job applications and taught me how to fill them out. With the HDPs help, I have now set a long term goal for myself, which is to join the Marines. I now know that I have the ability to do everything I put my mind to and appreciate what the HDP officers have done for me."
It is the collaboration, communication, and support of the local service providers, the schools, Superior Court, and the Sussex County governing body that has made and will continue to make the Home Detention Program successful. In turn, the program will continue to assist Sussex County's court involved youth in becoming successful members of the community.