Please select a year.
2010 Youth in County Government Day
Release Date: April 29, 2010
Sussex County Board of Chosen Freeholders Hosts
"Youth in County Government Day"
2010
The Sussex County Board of Chosen Freeholders hosted its 9th Annual "Youth in County Government Day" on Wednesday, April 28, 2010. Held in conjunction with "National County Government Month" celebrated during the month of April, a combination of four junior and senior high school students from each of the County's ten high schools were invited to participate in the afternoon's activities.
Students arrived at the Administrative Center and were welcomed by Freeholder Susan Zellman, Liaison to "Youth in County Day", Freeholder Director Jeff Parrott, Freeholder Phil Crabb, and Freeholder Rich Zeoli.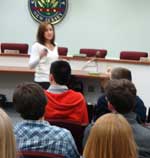 This year's theme for "National County Government Month" was "Healthy Counties." Two health-related presentations were offered to coincide with "Healthy Counties." Tracy Storms, Health Coordinator, for the Sussex County Department of Environmental & Public Health Services (Public Health Emergency Preparedness & Response Program) provided a presentation on the H1N1 virus, its impact on the community, and the pro-active measures taken by County health officials. Marc Slaff, Ph.D., Interim Superintendent, for the Office of Mosquito Control presented an overview of Entomology, mosquito-borne diseases, and outlined steps that everyone can take to reduce the mosquito population around their homes. The ever-popular tours of the Sheriff's Office and Keogh-Dwyer Correctional Facility, as well as visits to the Surrogate Court, the County Clerk's Office, and the Division of Social Services, rounded out the day's activities, with each area offering an overview of its functions, and the role it plays in the local community.
This year a total of 27 students, representing High Point Regional High School, Hopatcong High School, Kittatinny Regional High School, Lenape Valley Regional High School, Newton High School, Pope John XXIII Regional High School, Sparta High School, Sussex County Technical School, and Wallkill Valley Regional High School participated in the annual event. Each student received a Certificate of Recognition from the Freeholder Board acknowledging their participation in "Youth in County Government Day 2010."
*****